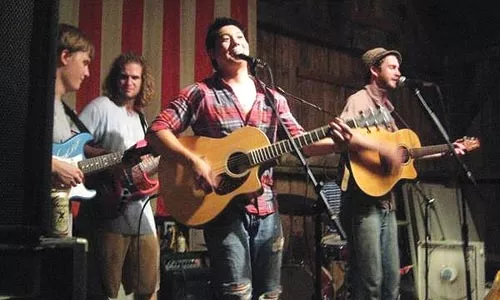 Throwing together a few musicians to pick on rootsy music in a local bar doesn't require a ton of imagination. But when a group combines that casual feel with sharp musicianship and arrangements -- like The Band did, certainly, and more recently, the likes of The Pernice Brothers and The Low Anthem -- the old and familiar can take on a sense of excitement and possibility. Here in Pittsburgh, a fairly new local band seems ready to follow in those footsteps: City Dwelling Nature Seekers.
The band, formed in 2008, centers on singer-songwriter Michael McCormick's warm, natural vocals, filled out by Lee Hintenlang's acoustic guitar and vocals, Matt Booth's bass and multi-instrumentalist Chris Parker, plus occasional guests. Late last year, they released a six-song debut EP, and now they're releasing a self-titled full-length album.
The Seekers show an impressive range on the disc, while hewing to a pleasant, slightly psychedelic folk-rock ramble. The album opens with the Byrdsy "Quick Way to Get There," featuring chiming electric 12-string guitar and some surprising twists and turns. The rockers include the Allman-esque "Sign of the Sun," while several others, like "Fire Met a Soul," feature controlled explosions of fiery country-billy guitar.
Where the Seekers really shine is in expanding their core sound with tasteful additional instrumentation and atmospheric textures, like haunting strings ("Carry a Pack"), brass ("The First Peoples") and lonely Neil Young guitar ("All About to Change"). The overall sense is of a band exploring traditional folk-rock sounds, but unwilling to paint itself into a corner with that palette. Instead, the group offers a broad landscape ripe for both exploration and reverie; as McCormick sings on one song, "Every little thing goes free."
City Dwelling Nature Seekers CD release with The Red Western. 9 p.m. Fri., Aug. 20. Thunderbird Café, 4023 Butler St., Lawrenceville. $5. 412-682-0177 or www.thunderbirdcafe.net