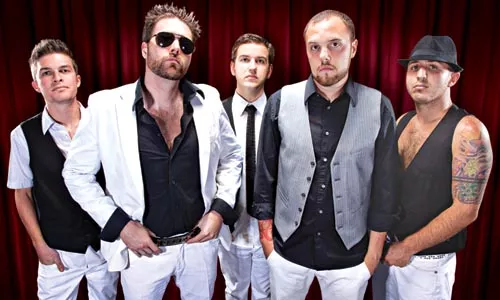 "I'm trying to keep these abs as tight as possible," Jon Belan says after a weightlifting session at the gym. "But it's a little tough when I'm chugging beer every night. So I'm building the chest to make the abs look smaller." But it can be hard to know whether it's Belan talking, or his persona, Gene the Werewolf.
Onstage as Gene, Belan sports a white jacket and tight pants with his shirt unbuttoned to reveal a hirsute chest. Cool shades, liberal facial hair and spiky 'do complete the appearance. "Gene's all about doing what's not expected," he says. "There are all these boy bands nowadays with cute lead singers. Gene's not like that -- he hates emo and is tired of the whining. He wants to be in the spotlight [but] go against the rules and still be known as the best guy in rock 'n' roll."
A native of Belle Vernon, Belan played in a series of bands through high school and college, including Berlin Project, a ska-punk band that toured nationally. "That's when I realized I didn't want to sit behind a desk and do a 9-to-5 job," Belan says. When that band ended, he joined local pop-punkers Punchline, who garnered considerable popularity among the Warped Tour crowd and toured internationally. After releases on Fueled By Ramen (the label that launched Fallout Boy, Paramore and Panic at the Disco), Punchline started its own Modern Short Story imprint to release last year's Just Say Yes.
Meanwhile, Belan had amassed a backlog of his own songs, and began working up the Gene the Werewolf concept. "The group of friends I hung out with used to make up names for each other. My friend Matt said that I looked like a werewolf, and Gene the Werewolf sounded better than Jon the Werewolf." Soon, he'd parted ways with Punchline "to make Gene my main priority."
The full Gene experience might be considered a local super-group, with three members of Berlin Project (keyboardist Aaron Mediate, drummer Nick Revak and Tim Shultz) and guitarist Drew Donegan from Clearview Kills. So far, the band has showcased for both the older rib-fest crowd, opening for Eddie Money and Blue Öyster Cult, and for MySpace kids who frequent clubs like Diesel, where it will celebrate the release of a new EP this Sat., Oct. 24.
"My roots are mainly from classic rock like Def Leppard or Mötley Crüe. Alice Cooper was the villain, and KISS dressed up on stage," Belan says. "I wanted to bring the character back into rock 'n' roll." The back cover of the new Gene EP Light Me Up pulls no visual punches, depicting Belan's character lounging in bed with two beautiful girls --"Sarah and Bianca, two good friends of mine," he says. "At the end of the show, Gene will talk to 50 ladies and try to have sex with all of them. He wants people to accept him for who he is, and if they don't like it, that's too bad."
Recorded by Jamie Wolford, formerly of The Stereo, the EP's classic '70s-rock riffs and lyrical machismo (The Darkness, anyone?) is balanced by bright, '80s-retro synth lines. "If we had an album with no keyboards on it, it would sound like it's straight out of the '70s," Belan says. "So the keyboards keep it modern."
Also bringing things up-to-date is a cameo by nerd-rap hero MC Lars on the Dexy's-referencing "Come On I Gene," with killer couplets like "It's a Pittsburgh full moon, awful dark and scary / Someone's rockin' heads and I think he's big and hairy." "We wanted to do an upbeat, hip-hoppy song," explains Belan. "I've known Lars since 2007, when Punchline toured with him in England."
Being self-pressed, the EP doesn't have national distribution, but will be available in all area Hot Topics -- or so Belan says. The concert also debuts the "Superhero" video, produced by Thom Glunt. "The premise is that I see some suspicious activity by a gentleman in a funny costume, and take it upon myself to chase him through the city. It's nothing like your stereotypical Superman or Batman." Glimpses of Pittsburgh are interspersed throughout, "and there's a part where we're on boats," he says. "Striking Distance was a huge inspiration for that."
So if they have video, why not a full-length album to go with it? "People are complaining about the economy and wanting things at a cheap price," Belan says, "so we put out something that can sell for five bucks. Also if you have a shorter disc, there's a chance of more good songs. Like Sum 41 sang, 'All killer, no filler.'"
Gene The Werewolf CD release with The Morning Light, The Composure and Masters of the Universe. 6 p.m. Sat., Oct. 24. Diesel, 1601 E. Carson St., South Side. $10 ($12 day of show). All ages. 412-431-8800 or www.dieselpgh.com