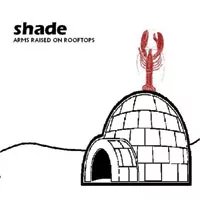 Shade
Arms Raised on Rooftops
Lovely Recordings
By the time I moved to town five years ago, Shade seemed to be playing at Gooski's as often as I was drinking at Gooski's. Which is to say, more often than not. Perhaps that's why, to me, Shade sounds like Pittsburgh.
But there's something more. There's a certain "if-it-ain't-broke-don't-fix-it"-ness to our beloved city, and it stands to reason that there might be a little bit of that infused into a band's sound when that band has been making music here for over 9 years.
On the group's second full-length, Arms Raised on Rooftops, Shade delivers 13 synthy, hook-laden tracks recorded at Machine Age studios in Pittsburgh. With the stutter-step beat of "Rival's Place" and Matt Stuart's increasingly Anglophilic vocals throughout, Arms Raised certainly wouldn't be out of place alongside contemporaries like The Arcade Fire or Bloc Party.
That said, Shade hasn't exactly let go of its roots. The bedrock of the band's sound is undeniably 1990s shoegaze and power-pop, and the album's later tracks seem to adhere to that foundation quite a bit more. Even the smooth vocals found on popular single "Forever" call to mind Canada's Doughboys.
The songwriting on Arms Raised on Rooftops may not be unconventional, but ultimately, it is sophisticated. And even at its most upbeat, it's still moody as hell. If that doesn't sound like Pittsburgh, I don't know what does.
Shade CD release, with Aviator. 9 p.m. (doors at 8 p.m.). Fri., Dec. 8. Lawrenceville Moose, 120 51st St., Lawrenceville. $5. All ages. 412-361-2262
---
The Gothees
Meet The Gothees
Starfish Records
"Bubblegoth" is how The Gothees describe their music -- though it's almost more of a musicological experiment disguised as a band: Where does '60s and '70s bubblegum meet goth? The answer, as proposed by the local group's debut full-length Meet The Gothees, seems to lie somewhere between new wave and surf rock.
Meet the Gothees is half originals, half re-imagined chestnuts from the two genres, including songs by The Monkees, The Archies, Psychedelic Furs and Joy Division. This is "Sugar Sugar" as David Lynch would like it; "Pretty in Pink" with more of a "Crimson and Clover" feel. Other points of reference include They Might Be Giants and, revealingly, Falco.
Waldo P. Emerson Jones III (The Gothees all have stage names) interprets these tunes in a deadpan Ian Curtis-meets-Peter Murphy warble as the band lays down washed-out jangly guitars, chilly bass lines and drums, and the occasional synth or theremin. The Gothees' own songs range from pleasant and straightforward ("Another Starless Night") to Dr. Demento fare ("Pop County Song").
Meet the Gothees will be an unpleasant pill to swallow for those who take either goth or bubblegum too seriously; for anyone else, it's a playful and novel romp across time and genre. As the disc's first song advises, "Some Irony Required."
Gothees CD release with 7 Speed Vortex. 9 p.m. Sat., Dec. 9. Brillobox, 4104 Penn Ave., Bloomfield. $5. 412-621-4900