The first black comic-book character to star in his own series was Lobo, in a Western title published by Dell in 1965.
Lobo
was canceled after only two issues due to poor sales; the main reason was that newsstands across America, mostly in the South, refused to carry or display a book with a black man on the cover. When the Marvel superhero The Black Panther debuted less than a year later, in
Fantastic Four
#52, he did so wearing a mask that covered his entire face to avoid a similar fate.
Since then, things have gotten better. But diversity in comics, in terms of characters and creators, continues to be an issue.
This month, local poet and educator Yona Harvey adds her voice to the history of the Black Panther. Writer Ta-Nehisi Coates, author of the current Black Panther series, invited Harvey and writer Roxanne Gay to contribute stories to a new Marvel series called
World of Wakanda
, which debuts Nov. 9.
Harvey had met Coates — author of 2015's best-selling, National Book Award-winning
Between the World and Me
— when they were students at Howard University. "We were both involved in [national writing program] WritersCorps," she recalls. "He was so smart. I felt like I was trying to keep up with him."
Harvey tells the story of Zenzi, a character introduced by Coates this year. She is a revolutionary attempting to overthrow the rule of the Black Panther, king of the fictional African nation of Wakanda. Harvey wanted to find the voice of the character. "No one thinks they are a villain," she says. "Zenzi is the rebel hero of her own story. She believes her king is disconnected from Wakandans."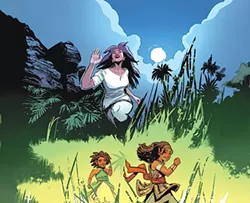 Though Harvey has read comics casually for years, this is the first time she has written one. The process of working with a corporate giant like Marvel was a new experience. "They require a pretty detailed outline of the story before I even begin the script," she says. "I'm a little intimidated by the history of Marvel. I don't know all of the specifics of continuity. My editor, Wil Moss, was invaluable for that. It's my story, but it has to fit what Ta-Nehisi has already written, as well as Marvel's established history."
Harvey is an assistant professor in the writing program at the University of Pittsburgh. Her 2013 poetry collection
Hemming the Water
won the Kate Tufts Discovery Award from Claremont Graduate University, and was a finalist for the Hurston-Wright Award. Her work has also appeared in numerous anthologies.
"I think my poetry skills helped with the voice and characterization," she says when asked about the differences between writing poetry and writing a comics script. The Zenzi story is only 10 pages, so concision is necessary. She feels that the page-to-page and line-to-line transitions are very similar to what she does with the forms of poetry she writes. Finding the "voice and the music and the sound," were important to her. Comics are a different language, but the beats and rhythms felt familiar.
Another new experience for Harvey was that of working with a collaborator. Her finished script was sent to artist Afua Richardson, a woman Harvey has never met. Richardson drew the Image Comics series
Genius
and has been announced as the artist for the Marvel reboot of
Blade
. Harvey and Richardson communicated through email and phone calls. In a comic-book collaboration, the writer details all of the information necessary for the artist to draw the story while leaving room for artistic interpretation. Letting go of preconceived notions of what the story will look like when it's done can be difficult. As of this writing, Harvey had not seen any of the finished art.
Six years after Lobo appeared, another black character starred in his own comic. Luke Cage, featured recently in a Marvel Netflix series, debuted in 1972 without a mask of any kind to obscure his features. His series would run for 10 years. Since then, many black characters, the Black Panther among them, have been successful. Diversity in general is being addressed in the comic-book industry, in terms of representation of a wider variety of characters as well as in the artistic voices that create them. Nonetheless, Yona Harvey and Roxanne Gay are the first African-American women to ever write for Marvel. Zenzi might be the freedom fighter, but it is the work of Harvey and Gay that could prove the most revolutionary.