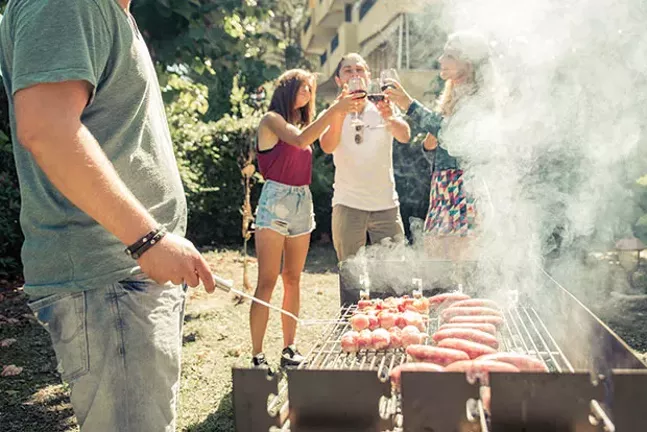 Beer and barbecue are a natural match. However, there are plenty of other adult beverages that complement meat cooked in the beloved low-and-slow style. Three local barbecue gurus share which non-beer options they enjoy.
Richard Coursey, owner and pit master of YinzBurgh BBQ, says his priority is finding a drink that won't clash with the food.
"I prefer to not drink something that's going to step on the taste of the meat," says Coursey, who keeps it very simple when it comes to wine. "I like a medium red wine. Spanish styles like tempranillo and Rioja. Nothing too complex or oaky that's going to compete with the smoke."
Cocktail-wise, Coursey's favorites include margaritas and mojitos.
"Margaritas have that balance of tang and sweetness," he says. "The mojito is a nice drink if you're outside. And if I'm just going to go with a straight spirit, I like a good single-barrel bourbon."
Although Coursey is a fan of scotch, he tends to save it for non-barbecue occasions.
"I avoid drinking scotch with barbecue because my favorites are the heavily peated ones, and it ends up being too much smoke," he says.
Black Sheep BBQ's Tony Guglielme (known to his customers as "Tony G.") makes his beverage choices based largely on the time of year.
"For me, it's seasonal," he says. "I make barbecue year-round, and always outside. So, when it's hot, I drink one of two things: white sangria, or a gin and tonic with an orange and cucumber slice.
"In winter, I'll do [a pour of] tequila or mezcal neat. Also, bourbon — neat or a on a big rock. Sometimes a Manhattan."
When it comes to pairing a drink with his barbecue, Guglieme is fairly straightforward.
"My go-to is rum," he says. "A lot of my barbecue is non-traditional and has Middle Eastern, South American and Asian flavors, and the flavors in rum go perfectly with those."
Keith Fuller, owner and executive chef at Pork & Beans, also tends to let the weather steer his drink choices.
"If it's a hot summer day, I'll do a crisp white wine like a pinot gris or a buttery chardonnay … something that cuts through the smoke," he says. "There's also a cocktail I really like called the Blackthorne, which is made with Irish whiskey, sweet vermouth, absinthe and bitters."
Given that Pittsburgh also gets its share of winter weather, what does Fuller opt for when during a cold front?
"If I'm cooking in a foot of snow, I'll just have a nice glass of rye," he says.