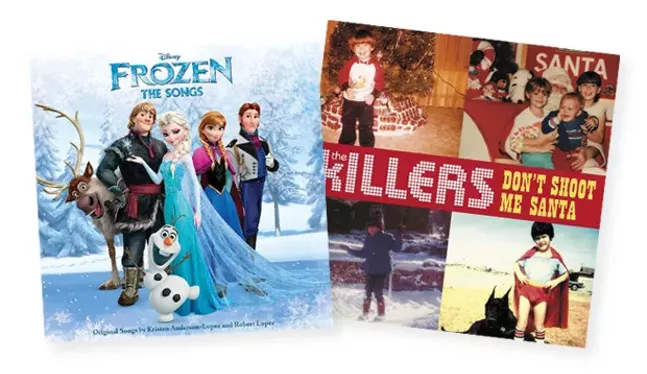 If you could pick one holiday song, what would it be? CP asked a few musicians from Pittsburgh about holiday songs they have covered, and why.
Dan, of Bastard Bearded Irishmen

We've been lucky enough to perform for the DVE Christmas party for the past few years and that has provided us the opportunity to learn and perform a holiday song every year. We enjoy the challenge of learning and arranging a new song. Picking a song involves variables such as: does it fit our style or sense of humor; can we make it fit our style or "Bastardize" it; can Jim (our singer) wear women's clothes on stage, like when he and Danny wore women's clothes and performed "Let It Go" from Frozen. We have done songs like "3 Ships A-Sailing," we've covered a Bob Dylan version of "Must Be Santa," all the way to "Baby, It's Cold Outside" and "Santa Baby" and, of course, "Christmas in Killarney."
We haven't recorded any of them in a studio, but we have definitely talked about it because we do seem to have enough material to make an EP. Holiday albums don't really go out of style and some of the arrangements we've worked on have been really fun to play. One day, A Very Bastard Christmas will be released! Just not any time soon.
Tai Chirovsky

I did a cover of "Don't Shoot Me Santa," originally by The Killers, for the holiday collection A Very Misra Holiday by Misra Records. It's a charity collection, so artists donate a song and then we all get to participate and help a great cause.
Honesty, I picked the song because so many holiday songs are really overdone, and I didn't think I could do one of them in a different way. I was on a time crunch and I wanted to do something fun. I've always admired The Killers for also donating a song a year to charity, so I followed suit. I called up my friend Joe Bray of All Day Productions and we met up with some recording equipment at my apartment. We spent all too long deciding which cheesy side instruments to go for (glockenspiel, jingle bells, mariachi trumpet ...). He actually does the voice of Santa on the track. It was a fun way to get in the Christmas spirit and to do some good.
Lou Christie

I recorded "O Holy Night" which was part of the history of who I was growing up. I went to Moon High School, and I started singing that song every Christmas. Whether I was in the junior choir or senior choir I sang led on "O Holy Night." When I was recording, I went into Pittsburgh and recorded "O Holy Night" with the University of Pittsburgh Men's Glee Club and it went all over the nation on one of those compilations with different people like Nat King Cole.
"Coldest Night of the Year" was one I picked to record because there's nothing like winter in Pittsburgh or New York City. The whole each coast is just treacherous. But it's just a nice song I did it with one of my background singers. But my favorite Christmas song will always be "O Holy Night."