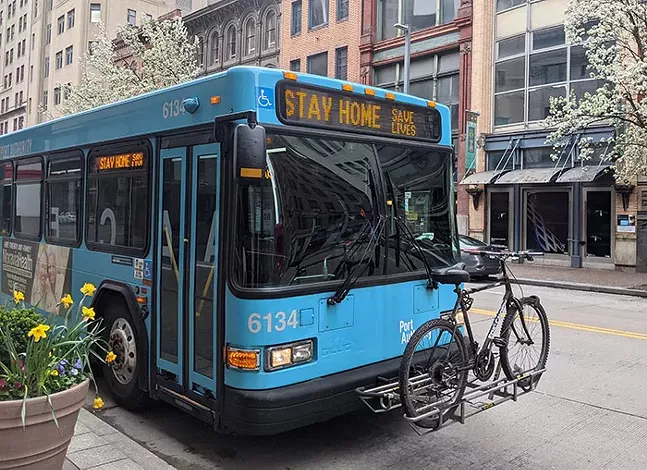 While Allegheny County has moved into its
green phase of reopening
, many Pittsburghers are still feeling the financial hardship brought on by the pandemic. Even a small expense, like bus fare, can be unaffordable for people who have lost jobs or wages during the past few months. On Tue., June 23, a group of local representatives called for Port Authority to immediately implement a low-income fare program. This would allow riders with an EBT card to board the bus for free by showing their card throughout the rest of the pandemic.
A press release notes that this would also help reduce the possibility of COVID-19 transmissions by minimizing cash transactions and crowding at the front of the bus. For the first few months of the pandemic, Port Authority eliminated front-door boarding, effectively making the buses fareless. Port Authority
began collecting regular fares
on June 8, after Allegheny County entered the green phase.
"Many of our fellow community members, especially those working in essential industries and on the frontline of the pandemic, rely on public transportation to reach their employment. The devastation that has resulted from the COVID-19 pandemic is both social and economic," said Allegheny County councilor at-large Bethany Hallam in a press release.
Hallam introduced the motion at a council meeting on June 23. The motion passed, though several councilors pointed out that it's not a mandate, as the council does not have the power to mandate actions from Port Authority.
In an open letter addressed to the Port Authority board, Port Authority CEO Katharine Kelleman, and county executive Rich Fitzgerald, more than a dozen local legislators called for the implementation of the low-income fare program. The letter notes that since Port Authority
first made rides fareless in March
, unemployment claims jumped from around nearly 13,000, to over 100,000.
"Other public agencies have taken steps to address COVID-19's economic fallout by suspending evictions and foreclosures, by expanding food distributions, by implementing utility shutoff moratoriums, and by expanding healthcare access," states the letter. "Public transit is as vital to life as these other services, and having fares become a barrier to food, healthcare, or job access would have catastrophic consequences for our communities and economy."
The letter is cosigned by 18 legislators, including Hallam, state Reps. Ed Gainey (D-East Liberty), Sara Innamorato (D-Lawrenceville), Summer Lee (D-Swissvale), city councilor Deb Gross (D-Highland Park), and state Sens. Jay Costa (D-Forest Hills) and Pam Iovino (D-Mt. Lebanon).
The letter also notes that if a low-income fare program is not implemented, "many riders who cannot afford to pay full fares will not generate fare revenue for the Port Authority" because they will not be able to ride the bus at all, "even as Port Authority maintains the same costs for operations."
This motion comes after local advocacy group
Pittsburghers for Public Transit called for Port Authority
to implement a low-income fare program at a Port Authority board meeting on May 29.
Port Authority spokesperson Adam Brandolph told
Pittsburgh City Paper
earlier this month that Port Authority does not have any immediate plans to make fare changes.