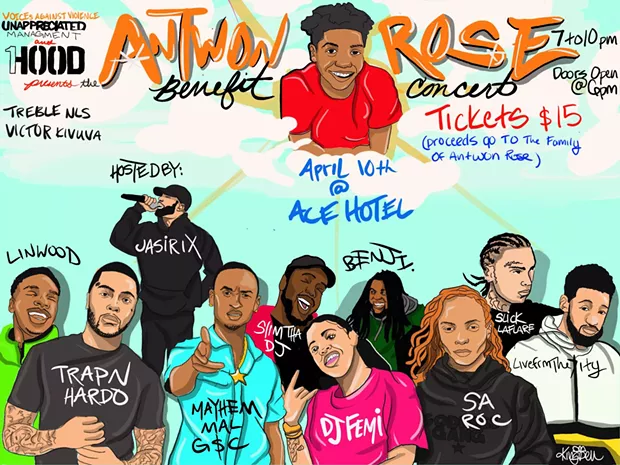 The recent acquittal of former East Pittsburgh police officer Michael
Rosfeld
for the fatal shooting of Antwon Rose Jr.
led to days of protests
in neighborhoods throughout the city. Now, just weeks after the verdict, the local hip-hop community comes together to remember Rose with a show at Ace Hotel in East Liberty.
On Wed., April 10, the socially conscious hip-hop collective 1Hood Media joins Voices Against Violence and Unappreciated Management for a concert in honor of Rose, a Black teenager from Rankin who was shot and killed by
Rosfeld
during a traffic stop in June 2018.
All admission proceeds will go directly to Rose's family. Additional donations will also be accepted during the event.
Performing are some of Pittsburgh's top rappers and DJs, including
Trapn
Hardo, Benji., DJ Femi, Livefromthecity, Slim
tha
DJ, Treble NLS, Victor Kivuva, Mayhem Mal, and Linwood. Atlanta rapper Sa-Roc will also be featured.
1Hood founder and Pittsburgh-based rap artist Jasiri X will host the event.
The show adds to 1Hood's efforts to support Rose's family. In the days leading up to the trial, the organization
asked the community for help
providing transportation and food to Rose supporters who planned on going to the courthouse. They are also called on people to send Cash App donations to Rose's mother, Michelle Kenney.
This isn't the first time Ace Hotel has served as a focal point in the wake of the controversial ruling. The boutique hotel, restaurant, and bar allowed protesters to demonstrate inside immediately after the Rosfeld verdict on March 22. While there, protesters addressed the gentrification they feel is pushing low-income Black residents out of East Liberty, where the hotel was built on the site of a former YMCA.
Antwon Rose II Benefit Concert featuring Sa-Roc
.
7 p.m. Doors open at 6 p.m. 120 S. Whitfield St., East Liberty. $15 at Eventbrite. acehotel.com/pittsburgh