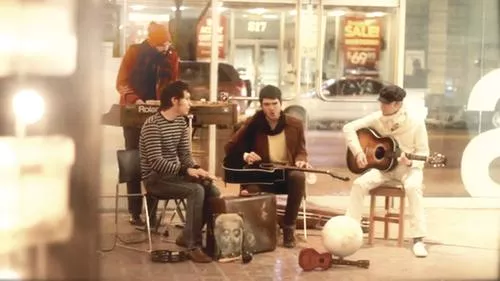 Pittsburgh's music blogosphere has always been small -- tight-knit and dedicated, but by no means all-encompassing. Writers come and go; others hold down niche roles, like Hugh Twyman does with his HughShows photo blog.
In 2010, Jim Sabol and Blake Watkiss added a consistent and noteworthy voice when they founded Draw Us Lines (www.drawuslines.com). The blog combines traditional music coverage with a feature unique in Pittsburgh: its "Echo Chamber" series, which offers music videos made with local bands.
Sabol and Watkiss, both graduates of Pitt's chemical engineering program, began Draw Us Lines in June 2010, at first featuring writing only. Show reviews, profiles of emerging artists and a "New Classics" series focusing on albums like Neutral Milk Hotel's In the Aeroplane Over the Sea and Modest Mouse's Good News for People Who Like Bad News made up the sum of the blog's output. (Posts are written by Sabol and Watkiss, in addition to contributors including Brendan Sullivan and Ricky Moslen.)
In October, inspired chiefly by the "Take Away Shows" series on the La Blogothèque music blog, they initiated "Echo Chamber." Enlisting the help of Point Park University cinema-arts graduate Todd Kappelt and local musician and sound engineer Justin Andrew, they set out to make a video with the local band Lohio.
"We didn't know what we were doing," Sabol says. "We did it at my house, and it was Halloween morning. [Greg Dutton and Liz Adams of Lohio] were there at like 8 a.m. We shot for maybe five hours."
That first video was posted Nov. 20, after a good bit of post-production work by Kappelt and Andrew, with help from the band. By the next week, the Draw Us Lines crew was shooting again, this time with Boca Chica, in an effort to keep a one-video-per-month schedule they'd set.
Despite the on-the-fly, low-budget nature of the organization -- especially for those earlier shoots -- the quality of the videos is professional. Kappelt and Sabol work closely with each band on their vision for the video, and Kappelt tries to match the aesthetic of the video with the feel of the music.
"With Boca Chica, I went a little slower with the camera -- I try to adapt the camera style to the music," Kappelt explains.
While those first few shoots took place at Sabol's Regent Square apartment, the settings have changed since; the "Echo Chamber" videos featuring the band New Shouts were done at Space Gallery Downtown, and the next video to be released, for Meeting of Important People, takes place in a cemetery.
The "Echo Chamber" crew plans to keep up the pace with local bands (there have been six sessions so far), but is also looking to augment the series with videos from national-level bands when possible. Sabol says a shoot with the eastern Pennsylvania band Strand of Oaks is in the works for later this month.
While Sabol is humble about the blog's accomplishments in its first year, he recognizes that Draw Us Lines is filling a role in the local scene.
"It hadn't been done before, and video is just so huge now," he says. "We're giving the bands quality footage, basically for free, and we have a blast doing it."