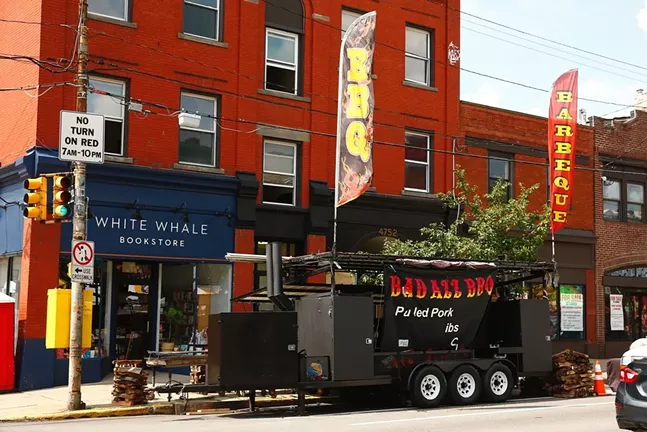 A viral Facebook post recently led a local business to respond to an alleged interaction involving racist remarks that occurred yesterday while people were preparing for the
Little Italy Days festival in Bloomfield
.
Juliette Elbaum posted on Facebook that she witnessed an employee at Bad Azz BBQ yell that he was a "big Trumper" to an Asian-American man across the street. According to the post, the Bad Azz BBQ employee added that the Asian-American people setting up a food stand across the street "would not be allowed to do so if Trump had his way."
Elbaum wrote that the Bad Azz BBQ employee then yelled that he hoped the "purveyor of the chicken on a stick [sic] stand in front of Rocky's on Liberty would be deported."
Little Italy Days is one of the largest immigrant heritage festivals in Pittsburgh.
Trump has made
racist
and
derogatory remarks
directed at
people of color
and immigrants and children of immigrants. He has also instituted several anti-immigrant policies and vowed to deport most undocumented immigrants.
The next day,
Bad Azz BBQ posted on Facebook
that the business "does not tolerate any form of racism" and that they "discussed this matter with the other vendor involved who agrees that it was just banter in good humor." But Bad Azz BBQ reiterated that the behavior and language of the associate was "unacceptable."
The barbecue stall said it is dealing with the matter internally and the "associate involved will not be in attendance at Little Italy Days."
Elbaum told
City Paper
that dismissing racism as a joke was "backpedaling what was said." She said she spoke with the Asian-American man after the incident and said her impression was that he was shrugging it off, but wasn't actively participating in the alleged joke.
"Racism is not a joke and the chicken on a stick guy didn't seem amused to me," said Elbaum.