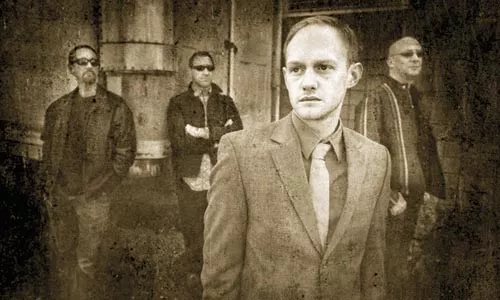 Who better to form the ultimate REM cover band than three fortysomething guys who went to college during the "modern rock" era, played in several prominent Pittsburgh groups and always get pumped for WXXP reunion shows? Oh, yeah -- and throw in one Point Park drama grad who's almost two decades too young to remember any of that.
Singer Chaz Moneypenny is primarily a film and stage actor in the area, but his most intensive thespian mastery has been assuming the part of Michael Stipe for an immersive two-hour REM show with his band The Reckoning, which includes guitarist Steve Seel (ATS, The Pundits), drummer Dave Klug (Hector in Paris, The Spuds) and bassist Andy McDuffie (Fusebox).
"We bill it as the music of REM, and not a tribute, to differentiate ourselves," says Moneypenny. "I don't paint a stripe on my face or have a shaved head, and no one's up there in flamboyant cowboy outfits like Mike Mills. We are trying to create the sonic experience." He does admit, however, to being a bit obsessed with Stipe while growing up. "I read about his private life. I have biographies of REM and interviews on cassette. When I was singing show tunes in college, people told me I sounded like him."
The Reckoning concentrates on 45 hits and deep cuts, mainly from the earlier, classic period when REM were the kings of college rock. Though the members all have original outlets of expression, they regard their faithful recreation as a way of giving back to the music that served as a soundtrack to their lives.
"We want to remind people of REM's relevance and prowess," Moneypenny says, "letting Pittsburghers know that the music of the '80s extends beyond just Bon Jovi and Journey."
The Reckoning. 7 p.m. Sat., May 29. Club Café, 56-58 S. 12th St., South Side. $10. 412-431-4950 or www.clubcafelive.com