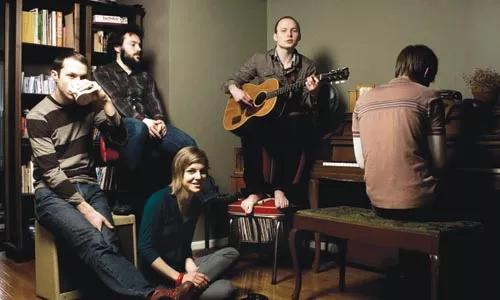 Folks who picked up Good Night, States' self-titled debut in 2008, or who have seen them live since then, might be put off at first by what they hear on the indie ensemble's forthcoming EP, In the Impossible Tension. "We don't expect that the sound of this EP is going to necessarily strike people in the way the first album did," cops singer and guitarist Steve Gretz, the band's main songwriter. "One band member referred to this record as 'Good Night, States with the rock 'n' roll taken out.'"
A good-natured jab, it would seem, at the idea of a six-song package written and recorded entirely by the band's East Coast contingent, Gretz and guitarist Joe Tanner, while they were living together in New Jersey. (Tanner has since relocated to Philadelphia; the other three band members live in Pittsburgh.) The duo developed and recorded the songs with a minimal setup, a sort of offshoot to what the band was doing as an ensemble.
In contrast with Good Night, States' lush full-band sound, In the Impossible Tension consists of guitar, a few "toy keyboards," a Casio drum machine and vocals supplied by Gretz and Tanner. "We just used what we had access to, mostly my collection of consumer electronics," Gretz explains. Some of the songs were culled from the band's 2008 project of releasing an "Internet single" twice a month.
While the band's debut effort called to mind Wilco's orchestrations, the new EP recalls the minimalistic synth works of Casiotone for the Painfully Alone (but only on a sonic basis: Gretz's velvety vocals and contemplative lyrics are far from the deep monotone and fictive imaginings of Casiotone's Owen Ashworth). The instrumentation was initially a matter of necessity, Gretz explains, but it became a part of the songs.
"The synth rig was in Pittsburgh with [synth player and vocalist Megan Lindsey], and some of that stuff is mine, but it wasn't practical to access what the band usually uses. But once we started with those sounds, it was just something that worked for us," Gretz says.
In a live setting, the five-piece band (rounded out by bassist Trevor Baker and drummer Dan Harding) works meticulously to recreate the EP's songs using more traditional instrumentation. The drum machines and analog delay that color In the Impossible Tension are replaced in part by effects pedals and equipment crafted by the band members themselves. That's one of a number of innovative projects Good Night, States has taken on to make the band more than just a matter of writing, recording, and playing live.
Pedal building is "definitely a nice counterpoint to what we're doing as a band, which can be kind of cerebral, and intangible," Gretz explains. "It's nice to sit down and put on a movie and solder stuff and have something in your hand at the end of the day." Plus, he notes, creating do-it-yourself effects can help achieve a unique sound that might be tougher to craft using stock parts.
Besides building sound devices, the members of Good Night, States have pursued innovation in other areas. For example, they recently took part in local artist Teresa Foley's Locally Toned project, in which Pittsburghers contribute unique ringtones. Then there's the app: Earlier this summer, Gretz developed a sound bank for an iPhone/iPod Touch synth application, which allows fans to plug into the band's soundboard at a show and play along with the songs.
With all the extras, does songwriting ever take a back seat?
"I wouldn't say that ringtone projects or iPod apps are causes for concern," Gretz says. "The ringtones weren't a lot of work at all, and the iPod project was mostly my personal project, though Megan put a lot of time into getting the word out about it."
While Good Night, States may be taking the DIY concept to the next level technologically, the members are essentially up against the same concerns as any band that's going it alone, Gretz argues. "You're trying to perform functions that would otherwise be done by another entity: a label, a booking agent, a publicity agent."
Songwriting, though, is still the main focus. "It's really important to cultivate that equality, and remember that we're a band," Gretz says. "Our product isn't iPod apps or ringtones -- it's music."
Good Night, States EP release, with Lowry and Meeting of Important People. 8 p.m. Fri., Sept. 11. Thunderbird Café, 4023 Butler St., Lawrenceville. $7. 412-682-0177 or www.thunderbirdcafe.net