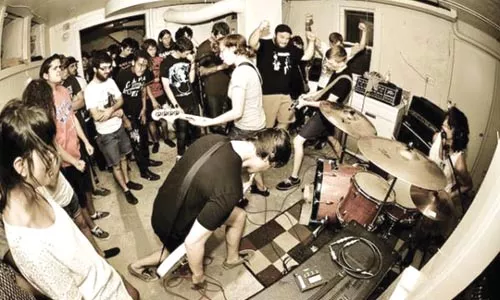 Calliope House, the birthplace of Pittsburgh's long-running folk-music society and home of George Balderose, is more likely to resound with the sound of his bagpipes than with rock 'n' roll. But lately, the basement has reverberated to the harsher strains of guitarist Eric Balderose and young punk band Code Orange Kids.
It's fun to imagine the band's sludgy, dissonant riffs, thrash breakdowns and raw-throated vocals blasting throughout the folkie bastion. "We rotate around the bagpipe lessons," says Jami Morgan, the band's drummer, vocalist and lyricist.
The band, whose members are currently high school seniors, formed about a year and a half ago. Morgan knew bassist Reba Meyers and Balderose through Pittsburgh Creative and Performing Arts High School, and came across guitarist Bob Rizzo at the now-defunct Mr. Roboto Project. While they initially played basic street-punk, their sound soon evolved into something more forceful and complex, influenced by Cleveland metalcore band Integrity, and Black Flag.
"We kind of got into it together," Morgan says. His favorite Black Flag record is the more experimental, Henry Rollins-era My War. "That kind of stuff shows us you don't have to just do straightforward [music]."
This Saturday, Nov. 6, Code Orange Kids will release a new record with a show at Most-Wanted Fine Art. With engineer Matt Very, who had recorded their friends Girl Fight, the band spent a weekend recording six short blasts of power -- thunderous bass and drums, rabid vocals and dark, striated guitars.
"I love stuff that's big-sounding, but raw-sounding," says Morgan.
Lyrically, Morgan initially drew upon experiences of going to pickets with his dad, Gabe Morgan, area director of the SEIU 32BJ. Now, his lyrics tend to express a personal idealism at odds with the attitudes of his peers.
"I find myself very frustrated with the people around us who don't seem to care about things," Morgan says. "I see a lot of misogyny and oppression toward women and girls who are my age."
The first song, "Coasts," starts with a sludgy riff, explodes into a high-speed section, then ends in a chant: "Spineless! Faceless! Bold and basic!" The second track, "Thrones," refers to "building these big piles of apathy that we sit on all the time," Morgan says. Even if the music is caustic and dark, tracks like "Skinless / Boneless" show that Code Orange Kids can still hit a weirdly hypnotic groove.
The band has scheduled a short East Coast tour for December. With only a few months of high school left, the members plan to keep the band going, says Morgan, and "just play so much that we have to get better."
Code Orange Kids EP release with Full of Hell, Ancient Shores, Old Accusers and Masochrist. 7 p.m. Sat., Nov. 6. Most-Wanted Fine Art, 5015 Penn Ave., Garfield. $5. www.most-wantedfineart.com