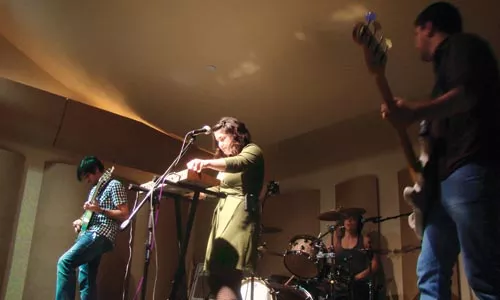 No need to travel to Brooklyn to catch some whip-smart post-post-punk, now that bands such as Big Hurry have popped up to fill that niche in the Pittsburgh scene.
"We all have different influences, but as a band, we're really into groups like Modest Mouse, Metric and the Yeah Yeah Yeahs," says drummer Dani Buncher, "indie [groups] that encourage people to dance while they enjoy the songs."
As many notable ideas do nowadays, Big Hurry began with a Craigslist ad, placed by bassist Lenny Flatley to form an "electro-meets-Krautrock avant-garde" band. That didn't pan out, but he did meet guitarist Andy Wilkosz, discovering they both grew up in the same small town -- McKean, Pa. Wilkosz already knew Buncher as a South Side neighbor, and soon the trio was practicing three times a week.
"It was six months 'til we found a singer," recalls Flatley. Enter diminutive firebrand Kelly Tobias, a coworker at the Carnegie Museum in Oakland. "We started talking, and it turned out she could sing. But we had already found our style, so it was fortunate that we had that enforced period in the woodshed."
With members spanning a decade in age (Flatley is the elder statesman at 35, while Tobias is 25), that style flowed from two sources. "Musically, I'm a kid of the '80s," Flatley says. "I was throwing raves in Pittsburgh in 1996 and going to Anti-Flag shows at house parties, which is not the experience that my bandmates had."
Big Hurry's debut six-songer is entitled Silver Screens. It was recorded in what Flatley calls an "organic, modern laptop scenario" by Rostrum Records artist Scott Simons, then transferred to hip-hop mecca ID Labs in Lawrenceville and polished at Treelady Studios.
The song "Save Your Breath" has a Gang of Four-meets-New Order energy that could liven up a car commercial, while "Tell Me" leans toward The Rapture's arch-hipster vibe. "Found Out" breaks into lumbering noise-rock on the PJ Harvey side of things (another of Tobias' vocal signposts might be Maura Davis, of Denali). The more ethereal "Paper Trails," which received some WYEP airplay, delves into the art-pop realm of Kristin Hersh.
Big Hurry has a WYEP Third Thursday appearance under its belt and frequent stops at the Brillobox, Howlers and the Bloomfield Bridge Tavern. Flatley would love more gigs similar to when the group opened for Cloud Cult at Mr. Small's. "I think we have the sound, songwriting style and musicianship to play some large rooms," he says. "A packed bar is always great, but I'm looking forward to bigger and better."
A handful of out-of-town slots for Big Hurry will include stops in New York, Boston and Providence, R.I., where Flatley spent five years playing in bands and DJing. Meanwhile, the group's MySpace page will soon percolate with DFA-styled reworkings by Flatley himself. "We'll put out a remix EP in the spring," he promises, jokingly, adding, "they call me the South Side Sound Machine."
Big Hurry with Harlan Twins and Machine Gun Joe. 9 p.m. Thu., Dec. 17. Lava Lounge, 2204 E. Carson St., South Side. $5. 412-431-5282