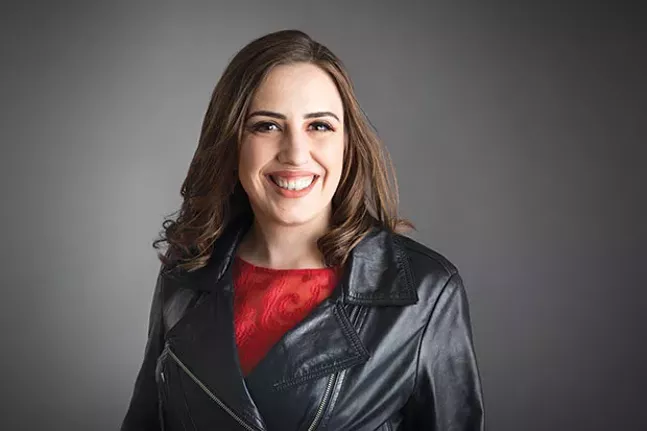 Carrie Ann DiRisio wears many hats: She's a full-time professional with an office job; she's an MBA student at the University of Pittsburgh; and, with the release in October of Brooding YA Hero: Becoming a Main Character (Almost) as Awesome as Me, she's a published author.
The satirical novel follows Broody McHottiepants, a stereotypical self-absorbed, attractive romantic interest in young-adult literature. Within the structure of a self-help guide, Broody teaches readers the basics of becoming a main character in a novel, from how to keep a love interest engaged to the secret of securing a sequel.
The novel was inspired by @BroodingYAHero, a Twitter account DiRisio created in 2015 as a joke based on a popular trope in YA novels. (Sample tweet: "Just so we're clear, I have a free pass to sleep with anyone but if you talk to another boy, my jealous rage is totally forgivable.") Then, one day, it went viral.
"I remember I looked at the tweets in class and was like, 'Oh my god, I have 6,000 followers,'" says DiRisio.
With that success in mind, DiRisio's agent suggested she write a humor book instead of the fantasy novel she had pitched. She submitted two chapters and an outline, and it sold on proposal to Sky Pony Press. DiRisio wrote the novel over the course of six weekends, treating herself to a spoonful of Nutella every 1,000 words.
After two years of tweeting as Broody, turning him from a Twitter persona into a character in a novel was easy, says the Dormont resident.
"In that time he's developed his own voice in his tweets, so I knew him as a character, which made it easy to set him in a plot," she says.
Although the Twitter account and novel are lighthearted, the humor is used to discuss a serious topic: damaging, reductive literary tropes.
"It's 'punching-up' humor, in a way to make fun of the rich, mega-hot white dude, and it's not making fun of the fat best friend, which is not a trope you should be making fun of. Those people deserve to be main characters themselves," she says.
DiRisio wants to help readers unpack and deconstruct such tropes.
"I do think readers and consumers of storytelling need to have that ability to [ask themselves], 'Are we using this narrative shorthand because it's easy, and if so, what's the implication?'"