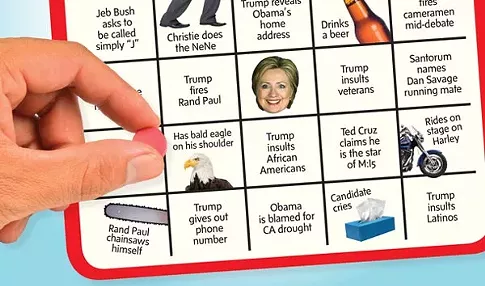 The first televised Republican primary debate, featuring only 10 of the 16 GOP candidates vying for the presidential nomination, is Thu., Aug. 6, in Cleveland. (Attendees will be chosen based on how well they are polling, with the top 10 to be announced late Tue., Aug. 4.)
With so many candidates, and so much intra-party and partisan acrimony, anticipation for an entertaining evening is running high; if it proves to be an informative evening, that will surely be an unexpected bonus. To help you pay attention, City Paper has created bingo cards. Print out the PDFs of our six cards below. Round up friends and family, and start winning!
HOW TO WATCH: The debate airs 9 p.m. Thu., Aug. 6, on Fox News. It will be preceded at 5 p.m. by an undercard event featuring the candidates that didn't make the cut, and where Pittsburgh's own Rick Santorum may wind up pitching his "up from the coalfields" story.
HOW TO PLAY: Every time a candidate — not a moderator — says the word listed on your card, cross off that square. Likewise if a candidate makes a reference to a category in capital letters (e.g., says "Cavaliers" for MAKES SPORTS REFERENCE). Hillary is a freebie!
HOW TO WIN: Mark off any five squares in a row — vertical, horizontal or diagonal — and that's a winning bingo. Alternatively, the player with the most crossed-off squares at the end of the debate wins.
FABULOUS PRIZES: The first two readers to get a five-in-a-line bingo and tweet us a picture of the winning card at @pghcitypaper will win a CP T-shirt and two tickets to the Aug. 9 "Under the Sun Tour" featuring Uncle Cracker, Sugar Ray, Eve 6 and Better Than Ezra. (Tickets must be picked up by 5 p.m. Aug. 7. Only one winner per household.)
Download the Bingo Cards Below

Bingo Card 1