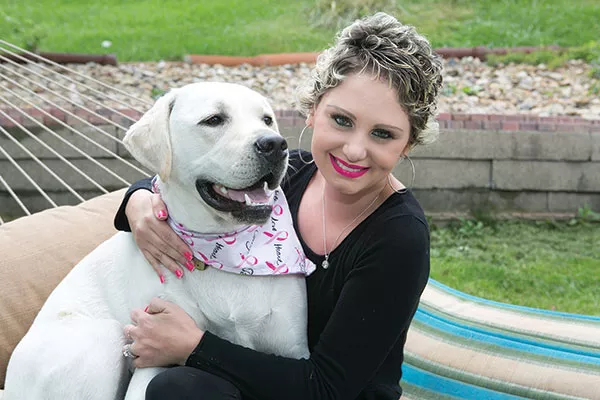 T-shirts, pins, flags, bookmarks, notepads and bandanas. If it has a pink ribbon on it, there's a good chance Pittsburgh-area resident Meghan Koziel has received it. In the year since she was diagnosed with breast cancer, Koziel says she's been overwhelmed by the amount of pink-ribbon merchandise she's received. It's not that she's ungrateful; Koziel just doesn't find the breast-cancer symbol comforting.
"When I was diagnosed, everyone wanted to send me things with the pink ribbon on it," Koziel says. "It was in my face constantly to the point that I felt suffocated by it. It's wonderful to get gifts when you're sick, but I have a box at home and everything with a pink ribbon on it, went in that box."
Koziel isn't the only one bugged by the popular symbol. The breast-cancer ribbon and the color pink have come under fire in recent years after advocates started questioning how money collected from pink-ribbon merchandise was being used.
But that won't stop the barrage of pink clothes, grocery-store items and advertisements Americans are exposed to in October for Breast Cancer Awareness Month, in addition to personal statements such as men dying their beards pink. (In years past, Pittsburgh even colored the waters of the Point State Park fountain pink.)
Despite advertising efforts that present a united front, there's little consensus within the breast-cancer community about the controversial ribbon and pink branding. Some organizations, like the American Cancer Society, embrace the pink movement full on. Other cancer organizations, like local nonprofit Glimmer of Hope, have never branded themselves under the pink label. And as for Koziel, while she might not be a fan of the breast-cancer ribbon, the color pink has always held a special place in her heart.
"My favorite color's pink, so pink for me doesn't really have a negative connotation," she says.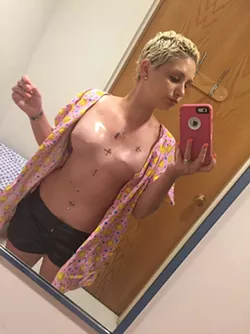 But all agree on the need to ramp up the battle against breast cancer. An estimated 246,660 women in the United States will be diagnosed with breast cancer, and an estimated 40,450 will die from the disease this year.
In April 2015, 25-year-old Koziel found a tumor in her breast. At the time, she was told she was too young to have breast cancer, but returned to the doctor after it continued to grow and she continued to experience pain. At 26, she was officially diagnosed, and since then she's documented her journey on social media.
"When I was Googling mastectomy or breast cancer, you get all these scary, horrendous pictures of people that had all these terrible things go wrong," says Koziel, who posted pictures of her naked chest on her blog and social media. "I feel like my scars tell my story, and I want other women to feel empowered by my posts, and not to be ashamed if maybe they don't have nipples or they have mastectomy scars."
But a lot of people weren't happy with Koziel's posts. The bubbly woman was subjected to vicious comments on the photos she posted on Instagram from people she's never met.
"When I first came out with my first mastectomy picture, I had people write horrendous things about me — that I was ugly," says Koziel. "But I think there are other upsetting things about cancer, not the scars that saved my life."
And Koziel has received a lot of positive feedback as well. She set up a GoFundMe page to help pay for her treatment and has raised $21,709 to date. She recommends supporting those living with the disease in ways like this, instead of donating to nonprofits.
"It's wonderful that the money is supposed to go to research, but there's no way to track it," says Koziel. "I don't make donations, and I don't recommend people to make donations to those types of companies. You should be raising money for people who are sick, to make it through life."
For more than a decade, breast-cancer organizations and pink-ribbon merchandisers have been under scrutiny from activists questioning how funds are used. Among them is Breast Cancer Action, founded in 1990 by women living with and dying from cancer, who were dissatisfied with the inadequate treatment choices they had.
"A quarter of a million women will be diagnosed with breast cancer this year, just like last year and unfortunately probably next year. About 40,000 women die of the disease each year," says Karuna Jaggar, Breast Cancer Action executive director. "We've just seen far too little progress for the billions and billions of dollars spent on pink-ribbon products, and far too little progress for the focus on awareness. We need action."
According to Jaggar, the ribbon was originally created by 68-year-old Charlotte Haley who was using them to call attention to inadequate funding for research into the root causes of breast cancer. She turned down corporations looking to partner with her, so companies released a breast-cancer ribbon of their own in the pink hue seen most commonly today.
"From an early stage, the pink ribbon was a corporate co-optation of an activist's peach ribbon," says Jaggar. "They did these focus groups that found that pink was cheerful and soft and nonthreatening, everything that breast cancer is not. And the result was that when these companies turned the peach ribbon pink, they also shifted the focus from prevention to just empty awareness."
Breast Cancer Action launched the Think Before You Pink campaign in 2002 to shine light on issues in the pink-ribbon industry. The campaign asks the public to consider where money collected from pink-ribbon products is going. The campaign also highlights pinkwashing, such as when a company whose products or services contribute to increased breast-cancer risk sells pink-ribbon products.

"That was really in response to the overwhelming number of pink ribbons flooding the market and concern in the breast-cancer community about what we had to show for all these pink-ribbon products," says Jaggar. "Anyone could put a pink ribbon on anything, and they certainly do. Where is that money going? A lot of times corporations put pink ribbons on products, and no money goes to any breast-cancer organization. Or they put a pink ribbon on products, and pennies on the dollar go to breast-cancer organizations."
Jaggar says companies put pink ribbons on merchandise because data shows it leads to higher sales and greater customer loyalty. And she says breast-cancer-awareness advertising from corporations presents an incomplete image of the disease and tends to overly sexualize women.
"Companies are selling these cheerful stories that are inspiring and appeal to people. They're making breast cancer feel like it is, on the one hand, an urgent threat that everyone needs to care about — a little fear-mongering," says Jaggar. "And on the other hand, they're making it seem like there's an easy answer. If you just donate, more people will be aware. You can't find anybody who isn't aware of breast cancer. Awareness alone is insufficient to turn the tide on the epidemic."
Still, Jaggar acknowledges that there are many living with breast cancer and those impacted by the disease who are comforted by the pink ribbon and pink products.
Among them are 12 local men who are participating in the American Cancer Society's Real Men Wear Pink campaign. According to the campaign, in Pennsylvania alone, 11,310 women will be diagnosed this year, and 1,940 will die from the disease.
"A lot of men are affected by breast cancer — having moms and aunts and grandmas who passed away, or who have dealt with and fought breast cancer in their lives. I think all of us have a cancer story, unfortunately, in their family," says Allegheny County Councilor Tom Baker, one of the participants. "My dad passed away when he was 39 from cancer, and my mom at exactly my age, 37, became a single mom."
The campaign includes nine events from Sept. 30 to Oct. 18 to raise awareness about the disease, as well as funds for the American Cancer Society.
"All of us guys have mothers. Many of us have sisters, aunts, grandmothers, close female acquaintances that are like family," says Todd McCurdy, of Watts Water Technologies. "You love them with all your heart, and to see them go through this challenge and this struggle is so heartbreaking. You feel so helpless."
McCurdy's wife is a breast-cancer survivor who also works for the American Cancer Society. He says he hopes the campaign will be of comfort to people living with the disease and can better educate the public about resources available to them.
"When you look at my wife's family tree, there's cancer up and down my wife's family tree, so it wasn't a matter of if, it was a matter of when," says McCurdy. "A buddy of mine said it best: It's one thing to believe in hell, but it's something else to meet the devil face to face."
Each of the participants is responsible for collecting $2,500, and the campaign's overall fundraising goal is $30,000. The men have already raised more than $37,000 to date.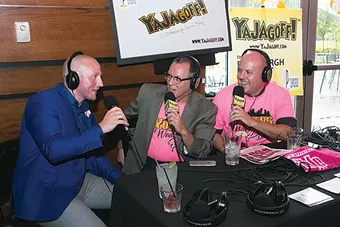 "I want my donations to go toward education and research," McCurdy says. "But there's got to be that financial incentive for those who work with the organization to help carry on that message. Being that my wife works for American Cancer Society, I'm going to tell you, you're not going to get rich working for a nonprofit. The donations, the research grants, the stuff American Cancer Society has really been at the forefront of, you can tell most of the money is going toward what the mission is."
Like many of the men in the American Cancer Society project, Diana Napper was inspired to get involved in the breast-cancer fight after her best friend, Carol Jo Weiss Friedman, died of the disease in 1990. But unlike them, she doesn't identify with the pink brand.
"Glimmer of Hope has never been a pink organization, even before all the controversy" says Napper. "Especially with the young women, they're very frustrated with the pink ribbon and products. But I truly won't turn down money from anything that's pink. Because our bottom line is, the money we gave away last year, I'd like to double that."
Napper's foundation funds cancer research and programs that focus on premenopausal breast cancer. This year, her foundation will distribute over $500,000 in Western Pennsylvania to breast-cancer programs and equipment purchases. The foundation has given more than $3 million for breast-cancer projects to Allegheny Health Network, Magee Women's Research Institute, the Hillman Cancer Center and Allegheny General Hospital.
"We have an effective program. I think our transparency and the effectiveness of our program has allowed us to triple in size," says Napper. "I want this fixed. I have two daughters. The incidence of breast cancer is too much, so I have got to find a way to help these patients get better. And [get] newer drugs, or make their treatment more tolerable, which in the end will improve outcomes, because when you're less stressed and have less anxiety, those people tend to do better."
Right now, Napper is working on partnering with researchers to develop a drug to treat metastatic breast cancer. She says she'd rather focus on helping the women she works with than the controversy over pink ribbons and pink branding.
"I don't have breast cancer. Some women might find great comfort in pink, and other women find no comfort in it," says Napper. "I always say who am I to judge. I support these women."