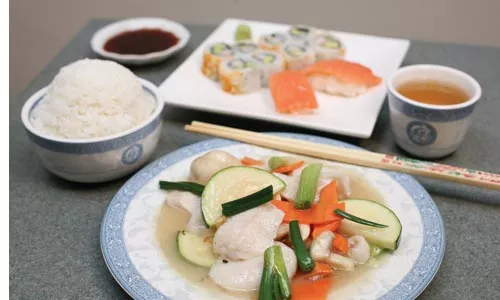 Location
: 311 S. Craig St., Oakland. 412-622-0133.
Hours
: Mon.-Sat. 11 a.m.-9 p.m., Sun. 3-9 p.m.
Prices:
Appetizers and soups $1.25-4.95; entrees $5.95-7.50; lunch special $5.35
Fare:
Asian, mostly Chinese
Atmosphere:
Bright, festive Asian café
Liquor:
None
Smoking:
None permitted
Where, oh where, is the excellent Chinese food in Pittsburgh? Places we once enjoyed now dissatisfy, while new recommendations disappoint.
So where does that leave us? Speaking only for our idiosyncratic selves, one symptom is Angelique's pet peeve -- War and Peace-length menus that seem to offer 40 versions of meat and vegetable in brown sauce. Is she really to believe that every one of these is a specialty of the house? Jason is more frustrated by the claim he's heard countless times: If you want the good stuff, don't order from the menu. As outsiders to Chinese culture, used to what-you-see-is-what-you-get, we admit we are unsure how to penetrate the curtain of the menu we're offered.
Recently, we found one local restaurant that has taken steps to address both of these complaints. Little Asia, on Craig Street, has a main menu of entirely manageable length, not much longer than a lunch menu at other Chinese restaurants. In addition, there is a separate page listing what appear to be the "secret" dishes the other restaurants don't want you to know about. At least, this is the first time we've seen stomach and beef tendon on a local Chinese menu.
The less-is-more ethos at work on the menu means fewer appetizer choices than usual -- no dumplings, for instance. But Little Asia compensates with broader offerings from China's neighbors, Thailand, Vietnam and Japan. We skipped the sushi but tried the Vietnamese fresh spring rolls, which came in the most tender, delicate wrappers we've had the pleasure of biting into. The first taste promised satisfaction, with vivid herbs, crisp lettuce and sweet shrimp. But halfway through the roll, the herbs were all gone, and the balance of flavors was broken.
Crab Rangoon, that curious proto-fusion blend of crab and cream cheese in a wonton, looked lovely: four little purses pinched into flower blossoms. The result was alternating bites of crunchy wrapper and creamy, sweetly savory filling, which was very good.
Better still was squid salad, chock-full of tender yet meaty slices of tentacle tossed with finely diced hot peppers and burdock root in a light sweet-and-sour dressing. The salad was hearty, yet light and mild. We were pleased; our meal looked promising.
We started conservatively with entrées, ordering chicken with broccoli off the regular menu. Although not the gorgeous jade green we've seen before, the florets were tender-crisp and fresh tasting, and the chicken was succulent in its slightly sweet, slightly thick (but not unctuous) sauce.
Angelique was in a beefy mood, and although the second, presumably more authentically Chinese menu did not include descriptions of dishes, she ventured that Hot Spicy Beef Slices would fit the bill. A dish of fluffy rice arrived, accompanied by a large bowl filled with silken slices of meat cooked with bok choy in a broth simultaneously spicy and underseasoned. Peppery spice was definitely present, but not rounded out by any other seasonings, even salt. The result was a dish of beautiful texture and strangely one-dimensional flavor. As leftovers the next day, the zingy bite of ginger emerged, making for a more satisfying flavor.
Jason could not pass up the opportunity to try stomach, which Little Asia offers in different varieties (beef, pork) and preparations (hot and spicy or "sacha"). While our server described sacha as a slightly spicy sauce, not much spice was evident in the preparation we received. Instead it seemed to be a fairly typical Chinese savory brown sauce. Crisp onions and green peppers provided contrast to the sliced stomach, which was immediately recognizable, with one side smooth and the other honeycombed. The flavor was beefy -- more like a hearty skirt steak than a mild tenderloin -- but the texture was chewy, although not tough, reminiscent of some squid.
Our visit to Little Asia has not ended our quest for Chinese food that stands up to the best Thai and Vietnamese restaurants in town, but it certainly merits a return visit when we seek something a little unusual.
JR:

AB: