click to enlarge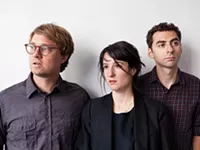 Hospitality's debut album was one of 2012's brightest releases, full of chiming guitars and some studio trimmings, and topped off with Amber Papini's lyrical outlook that seemed to vividly encompass a handful of stories in the naked city. Trouble, the trio's sophomore release, journeys into darker territories. While Papini's clean guitar sound hasn't completely vanished, it's joined by some churning synth bass lines on a couple of tracks, most notably the dreamy trance of "Last Words." This time out, Papini doesn't lay out a storyline so much as offer an outline that we're left to color in ourselves.
Brian Betancourt, the group's bassist, says the new sounds weren't a departure, but instead a chance to help the songs come to complete fruition. "We didn't have a lot of time with the first record. The songs had been around for years, but they were recorded quickly," he says. "This time we had more hands-on time in the studio to make decisions. We all have tons of music influences and we wanted to flex different muscles this time."
The results could land Trouble's intriguing sounds on a lot of year-end lists, and offer a crowning achievement for the band's label, Merge, which just celebrated its 25th anniversary, a history marked by many unique albums.
When Hospitality came together, the group sounded admittedly more lo-fi than its current set-up. Papini played acoustic guitar and drummer Nathan Michel played a small, scrappy drum kit. As the band started to play larger spaces, amplification and better drums were in order. Both situations resulted in what Betancourt calls "creativity by necessity. When Nathan's behind the kit, he plays very musically and compositionally, so it kind of takes up a lot of space." He adds, "My bass parts are kind of melodic, so it's almost like a lead guitar sometimes. That's how our sound gelled at first, because we only had three people."
The band still records as a trio, but on tour, Hospitality is a quartet. Michel, who has also released instrumental albums on the electronic Tigerbeat6 label, occasionally gets behind the kit, but he just as often handles lead guitar and keyboard duties. Betancourt puts down the bass on a few songs, like the aforementioned droney "Lost Words." "We tried to make it so I'm still actually playing the sampler musically, not just pressing play and having a recording play over it. I'm using samplers as an instrument that plays a lot of the synth stuff," he says.
When the band comes to Pittsburgh, it will be on the last leg of a tour that took it to North Carolina for two days of a three-day festival marking its label's silver anniversary. Speaking a few weeks prior to the event, Betancourt was looking forward to sharing a bill with bands like Destroyer and the Mountain Goats. He appreciates the devotion of the Merge crew, which don't put a lot of pressure on bands. "They're genuinely enthusiastic. And they wouldn't work with someone that they weren't totally enthusiastic about," he says of Merge founders Mac McCaughan and Laura Ballance. "And since they're musicians, it really helps them make wise decisions for smaller bands. I don't think every label has that kind of perspective."