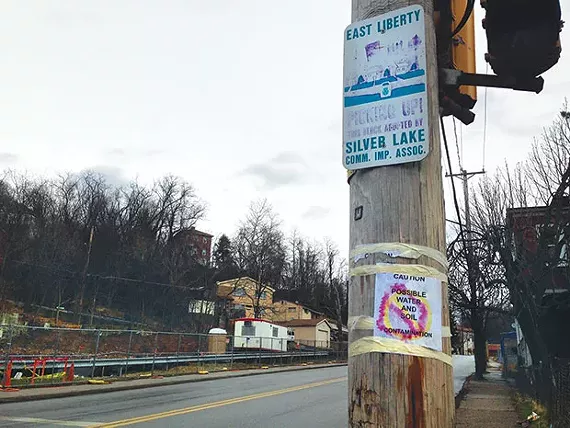 Development in Pittsburgh's East End is hot, but venture east of Washington Boulevard and few signs of new construction are present. While East Liberty, Bloomfield, Shadyside and Larimer are seeing new high-end apartments, big-box stores, restaurants and even affordable-housing projects, Lincoln-Lemington is still waiting for a boom.
Lincoln-Lemington is mostly residential and contains about 4,500 residents, who are generally older and black. The neighborhood of more than 1.5 square miles has only two small convenience stores that offer mostly candy, pop and cigarettes.
But there is a new commercial development coming that some hope will turn the tide. At the corner of Deary Street and Lincoln Avenue, Family Dollar is planning to build a new store on the site where an industrial-laundry facility and gas station once sat. And redeveloping abandoned, possibly contaminated, industrial sites like this, known as brownfields, could mean a lot for Lincoln-Lemington, says Pittsburgh City Councilor Ricky Burgess.
"This becomes the first step to make our community better," says Burgess.
However, some longtime residents are concerned that plans might be moving too fast, and that environmental cleanup efforts might not be adequate. They worry that if the Family Dollar development moves forward without precaution, it could set a bad precedent for future developers to ignore the desires of the community.
At a community meeting at Pearson Recreation Center on March 11, representatives from Cozza Enterprises, which owns the site and is developing it for Family Dollar, met with about 40 concerned citizens. Cozza recently conducted some environmental cleanup of the site by removing several underground gasoline-storage tanks and other contaminants. Cozza also hired an outside firm, Cribbs and Associates, Inc., to test the soil and groundwater for contaminants.
"We are working with the state and meeting all of the cleanup standards," said Matt Crawford, of Cozza, at the meeting. "We, the state, our contractor and Family Dollar all want the site clean and safe, and that is the path we have followed."
Bob Botterman, a hydrogeologist at Cribbs, said at the meeting that soil and water testing showed impacts from contamination that were "extremely minimal." Most of the site showed contamination levels below state standards; however, two testing wells showed groundwater containing levels of gasoline-related contaminants slightly above state minimums for residential properties.
On a commercial site, those levels wouldn't violate state Department of Environmental Protection standards. But because groundwater can migrate off site, there are concerns about contamination of nearby residential properties. However, Botterman said, by the time water moved off site, the levels would most likely be under the state minimums, lowered by naturally occurring bacteria present underground.
Arnold Perry, of the Silverlake Community Improvement Group, lives about 100 yards from the site. His group spent years doing groundskeeping at the site, which was city-owned, before it was sold to Cozza for $9,000 in 2006. Perry says he knows the land always had contamination issues, and he could smell a foul stench when Cozza started digging up the property a few months ago.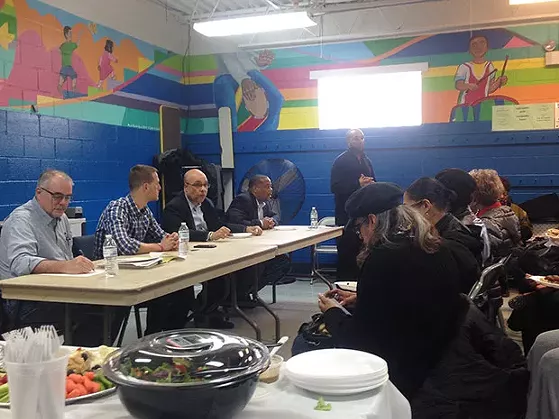 He's still concerned his neighbors could be exposed to contaminants. Contaminated soil can be dangerous if people ingest food grown in it, and children are vulnerable if they touch contaminated soil then place their hands in their mouth before washing.
"Before they do any development, it's got to be clean," says Perry. "The soil affects everything."
In an email to City Paper, DEP regional spokesperson Lauren Fraley wrote that Cozza has yet to submit a cleanup plan, even though the company has already begun remediation by removing underground tanks, and that the DEP hasn't received any documentation on the site since 2007.

Because cleaning up brownfields is cumbersome and expensive, the state government rarely has the time or resources to complete remediation. This led Pennsylvania to pass Act 2 in 1995, the state's voluntary land recycling program. Act 2 states: "The elimination of public health and environmental hazards on existing commercial and industrial land across [Pennsylvania] is vital to their use and reuse as sources of employment, housing, recreation and open-space areas."

This program encourages private developers to voluntarily conduct site cleanups by providing state-sponsored financial assistance, liability relief to developers, and a clear set of environmental standards.

Act 2 has been hailed by the public-policy nonprofit Brookings Institution as the country's leading policy on brownfield remediation, but a 2005 study by Temple University points out some criticisms. The study says that since voluntary cleanup policies can lead states to adopt "lower remediation standards," and "since most brownfields are located in distressed urban neighborhoods, critics have argued that the lower-income, primarily minority populations of these neighborhoods are stuck with more contaminated property than would be tolerated in other areas."

Despite the concerns of residents, Councilor Burgess said at the meeting that the levels tested onsite were common among brownfields, and development shouldn't slow down. "Given the fact that we have such low concentrations, there is a good chance it will naturally break down," said Burgess. He said attracting private development is the only way to remediate the environmental problems. "Many of our low-income neighborhoods are lacking development," said Burgess. "We need new investment."
Andre Young is a property owner in Lincoln-Lemington who attended the meeting. He said he might be interested in developing more properties in the neighborhood if there were a stronger environmental commitment from other developers. He would like to see Cozza place a layer of clay over the contaminated section of land, to trap contaminants underground.
"If a human life is worth a few extra dollars, then we should spend it," says Young. "Look into the future and do a little bit more than the state requires. Prepare for the long-range health of the neighborhood."
Crawford said at the meeting that Cozza is still committed to developing the site, and that more community meetings are to come.