In January 2018, in 4-degree weather, Bellevue broke ground on its first brewery, Lincoln Avenue Brewery. Owners Grant Saylor, Lisa Saylor, Joel Haldeman, and Amy Haldeman were joined by community members to transform a 110-year-old building into a modern place to grab a pint.

The completed Lincoln Avenue Brewery opened its doors less than a month ago, but it's packed every day. Bellevue, a neighborhood notorious for keeping Prohibition-era laws until 2015, isn't wasting any time. The brewery can't make beer fast enough.
Currently, head brewer Grant is working off of a two-barrel system he jokes is "painfully slow." It's slow enough that he's already looking to expand into a five-barrel system, as his small setup is constantly working to produce the beer (about 12-18 days, depending on the style).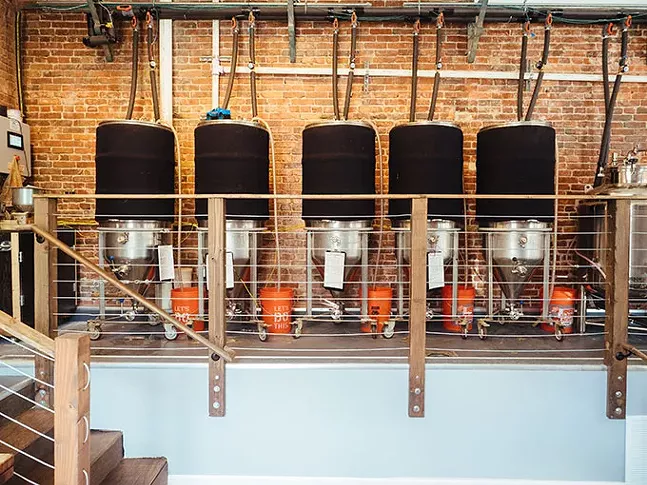 On tap, there's a mix of traditional beers, like IPAs, porters, lagers, and pilsners. The end goal is to have seven house-made beers on tap at all times, but for now, the brewery is just trying to keep up with demand. He's supplementing with products from other local brewers, distilleries, and vineyards. Once things settle down, he plans to branch into "trendier" beers, like sours.
Grant may call his brews traditional, but the beers themselves say otherwise. The I Don't Get It, a blonde cream ale Grant describes as a blend of a lager and ale, is malty and floral. Sa'wheat, another hazy brew, is rich and crisp. His 511 NEIPA, the brewery's most popular beer, is mild, but hazy and juicy.
The brewery also has a small, curated list of Pittsburgh-fresh snacks and sandwiches. Grant makes tri-weekly trips to the Strip District for meats and cheeses to fill the charcuterie board and sandwiches (made with bread from Mediterra Bakehouse). One of his favorite items is a huge – and undeniably delicious – soft pretzel from the Bakehouse, with beer cheese and mustard made from Lincoln Avenue beers.
Grant already has big plans for the brewery's future. He's working an all-local SMASH (single-malt-and-single-hop) brew, using malt from Fenelton and hops from the local organization Hops on Lots. There will be two taps reserved for home brewers, which Grant will brew in-house and donate one dollar of each pour to charity.
For Grant, Lincoln Avenue Brewery is about more than just good beer. His space is a place to put phones away and meet the strangers sitting next to you.
"You can go anywhere and get a two-dollar Coors Light," says the brewer. "We're brewing community."