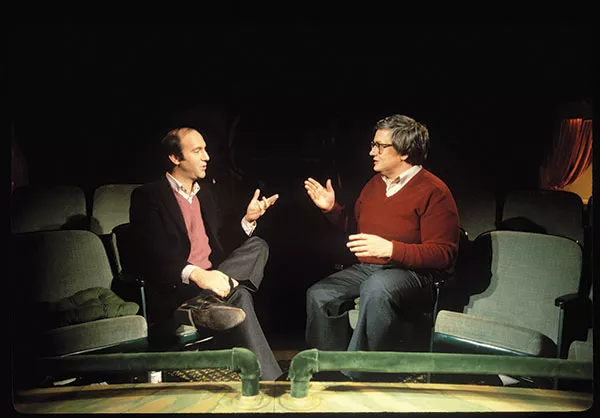 If mainstream film criticism of the last half-century could be defined by a single voice, it would likely be Roger Ebert's. Beginning in 1967, he wrote film reviews for the Chicago Sun-Times; in the 1980s and '90s, he co-hosted (with Gene Siskel) popular film-review TV shows (Sneak Previews, At the Movies); and in his last years, he became a prolific online presence.
But, as is frequently argued in this new bio-doc, Life Itself, Ebert's influence wasn't necessarily measured in quantity of reviews, but in quality. In particular, Ebert had a gift for conveying his appreciation (or disappreciation) of a film, while still retaining what New York Times film critic A.O. Scott calls "a clean, Midwestern newspaper style." Thea Flaum, producer of Sneak Previews, concurs: "At his heart, [Ebert] believed that everybody should be able to 'get' a movie."
Fans of film criticism will be most interested in some of Life's discussion about whether Ebert's populist style helped or hindered how we approach and analyze film. While the TV show could reduce films to a simple binary (thumbs up or down), it also championed small films like El Norte and Gates of Heaven, and exposed countless impressionable minds to thinking about films and arguing their merits.
Life Itself is adapted from Ebert's 2011 memoir, and directed by another notable Chicagoan, documentarian Steve James (Hoop Dreams, The Interrupters). Ebert's epic writing life — he started a newspaper as a child, and wrote non-stop until his death in April 2013 — is just one facet of the film; also extensively documented are Ebert's last cancer-plagued years, when he was left variously disabled, most notably without a speaking voice.
As one might expect, Life is a hagiography, despite the acknowledgements of some warts. (Ebert could be pompous and petty, and the sniping outtakes from Siskel and Ebert's show don't do either man any favors.) Family (including Ebert's wife, Chaz), colleagues and a famous filmmaker or two contribute anecdotes and reads on a man who was both a regular guy and an outsized, nationally recognized media personality.
Whether you liked Ebert and his reviews or not, there's no disputing his influence, and in today's fractured media, there will never be such a dominant film critic again. But his legacy is left behind in the thousands of archived reviews — which, Ebert acknowledged, you are free to disagree with. And perhaps more important are all those readers and viewers who learned to notice a film's lighting techniques, themes or how it made them feel. You can argue that films now — even this one — are better or worse, but isn't it grand that we're all talking about them?