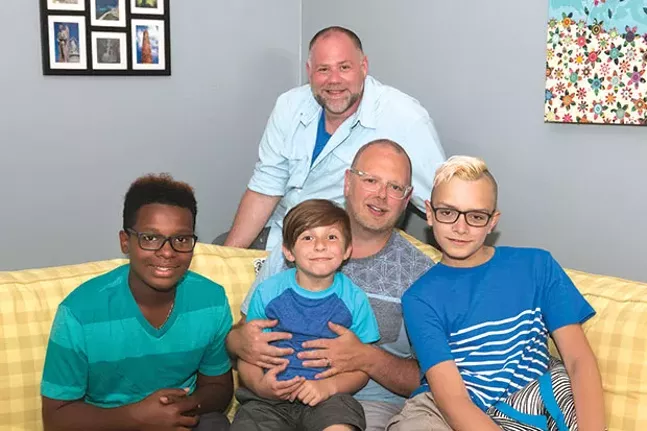 As a gay couple, Sean O'Donnell and Todd Collar always wanted to adopt kids, but it wasn't something they initially thought possible.
"We have been together for 20 years," says O'Donnell. "We have wanted kids for as long as we can remember. We didn't think that this was something we could do."
However, Pennsylvania has been a leader in adoptions by LGBTQ individuals for the past decade, thanks to a 2002 state Supreme Court decision that gave same-sex couples equal adoption rights as non-same-sex couples. Adoption by same-sex couples didn't become legal nationwide until June 2015.
When the Pittsburgh couple realized nothing was holding them back, they were delighted and began fostering their now-son, Chris, in 2014. They then brought Elijah into their home in 2015, and they're currently finalizing paperwork for their soon-to-be son, A'Sean, whom they have been fostering for months. All told, O'Donnell says he and Collar are happy with their family and they're glad they pursued adoption.
"That was the only option that we considered," says O'Donnell. "We knew we wanted to give a home to children that were already out there. We have not encountered any negativity. [Everyone] is just happy that these kids have a home. … People always say the kids are so lucky. No, we are the lucky ones. They bring us so much joy and love; it's endless what they bring to us."
But proposed federal legislation introduced by U.S. Rep. Mike Kelly (R-Butler) is looking to alter the national landscape for LGBTQ adoption, potentially limiting options for LGBTQ people to participate in the process. The Child Welfare Provider Inclusion Act of 2017 seeks to "ensure that organizations with religious or moral convictions are allowed to continue to provide services for children," and continue to receive federal funds even if those organizations refuse to work with people who run counter to their "moral convictions."
For LGBTQ-rights advocates, this bill is a dog whistle to Kelly's far-right base, suggesting that it's acceptable to discriminate against LGBTQ people. Furthermore, they say, it could add barriers for children looking for homes and enable religious adoption agencies to practice unpopular programs like conversion therapy.
Kelly and his conservative backers say the bill would merely protect the rights of religious organizations, and maintain the longstanding relationship between the government and religious adoption agencies. But Kelly's LGBTQ constituents hope the congressman will also consider their rights and, ultimately, the future of the kids and parents of all backgrounds looking to create families.
According to the U.S. Department of Health and Human Services, more than 400,000 children and youth are in foster care, and more than 100,000 of them are waiting to be adopted. O'Donnell says this figure is what drove him and his husband to adopt.

"There are 100,000 kids that need a home and I don't see anybody else stepping up," says O'Donnell.
O'Donnell says he's fortunate to live in Pittsburgh, where there are many agencies, like Three Rivers Adoption Council, that will work with LGBTQ people. But he also recognizes the difficulties in rural areas, where there are typically fewer such adoption agencies. For example, Pittsburgh City Paper searched through the state-certified adoption agencies of Western Pennsylvania and found that rural counties tend to have one county-run adoption agency and one or two nonprofit adoption agencies each, and that most of these are religion based.
Because of this, O'Donnell says Kelly's bill could limit adoption access for LGBTQ and non-faith individuals. These potential parents looking to use a nonprofit agency would most likely have to go through one in a city, which would mean traveling to and from the city to take adoption-preparation classes and fill out paperwork.
"You are cutting them off, and you are forcing them to drive hours to the city to take classes," says O'Donnell. "You are making it more difficult for the kids to be placed and sentencing these kids to a life in the [county-run] foster system."
Adoption agencies throughout the U.S. must be certified by state governments to receive funding. A few states, like Massachusetts and California, have refused to funnel federal funds to religious adoption organizations, unless those organizations promised to follow the state's civil-rights laws, which prohibit discrimination on the basis of matters like race, gender, religion and sexual orientation.