In its simplest reading, Andrey Zvyagintsev's drama Leviathan presents a contemporary version of an age-old tale: An everyman fights against the corruption of the prevailing institutions, and loses badly.
Leviathan was Russia's entry to the best foreign film category of the 2015 Academy Awards, and it received one of the five nominations; Zvyagintsev also directed the 2003 thriller The Return.
Auto mechanic Kolya (Aleksey Serebryakov) lives in a rundown fishing town on Russia's Barents Sea, and is disputing the town's eminent-domain claim on his family property. He has recruited his old army buddy, Dimitri (Vladimir Vdovichenkov), now a Moscow lawyer, who arrives with a folder of dirt on the mayor (Roman Madyanov). Also caught in the increasingly tense, angry and booze-fueled struggle are Kolya's wife, Lilya, (Elena Lyadova) and his teenage son.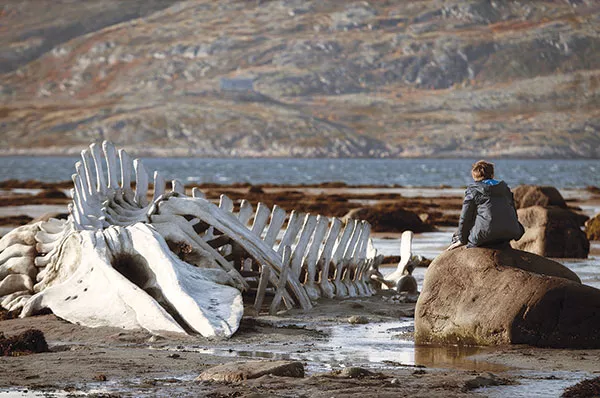 It is a deceptively spare tale — matching the beautifully photographed, strikingly barren landscape and gray seas. This place harbors forces which have destroyed man and monster alike, as depicted in the opening shots of the bleached-out skeletons of fishing boats and whales.
Leviathan unfolds slowly, over nearly two-and-a-half hours, with no music (save for a Philip Glass piece which bookends the film) and many scenes of silence. Yet once it finds its groove — a steady slide downward, greased with a pervasive sense of dread occasionally relieved with a bit of mordant humor — Leviathan proves gripping.
And for the more thoughtful viewer, there is plenty to unpack: Zvyagintsev's film offers fodder for political allegory; for re-works of both the Old Testament's Leviathan and Thomas Hobbes' 17th-century eponymous philosophical work; and for pointed critiques of powerful Russian institutions, such as church and state. (Russia's leaders, past and present, get a few cameos.)
Kolya has little hope against the larger forces of corruption, personified by the mayor, himself a stand-in for institutions such as government and the church. (An opulently clothed Russian Orthodox priest takes time to assure the mayor of exactly what it is that God wants.) Kolya's hopeful trip to court depicts an immobile judicial system, in which the rapid monotone recitation by the judge suggests a rote, mechanical procedure not open to dissent.
While Zvyagintsev's characters fight external foes, they also flail against their own inescapable monsters — hopelessness, anger and arrogance that also drag them down as surely as any mythical sea creature. The eventual outcome can only be loss, betrayal, violence, glasses of vodka turning to bottles of vodka, and skeletons of past lives crumbling on the beach.