How far would you go to preserve your link to the outside world? That is a question at the forefront of Letters to Sala, the true story of Holocaust survivor Sala Garncarz Kirschner. Based on the book Sala's Gift, this area premiere of Arlene Hutton's 2013 play finds an appropriately intimate home on the Little Lake stage.
Shuffled between various Nazi labor camps during World War II, Jewish teenager Sala (Katy Grant) amasses and conceals a cache of letters she receives from family and friends, knowing that if she's caught, she will be beaten or even killed. Decades later, fearful she might not awaken after heart surgery, an older Sala (Lynne Franks) hastily proffers the collection of 350 letters to her daughter, Ann (Ponny Conomos Jahn).
The play toggles between past and present, with the older Sala sometimes watching and reading the letters aloud with her younger counterpart. Despite her increasingly desperate circumstances, the teenage Sala is indomitable as she finds friendship in the camps and even falls in love, all while constantly praying with the other prisoners for freedom.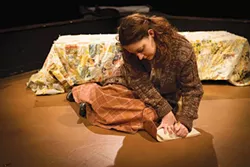 In the present day, a battle for the letters ensues. Ann is eager to donate the collection to The New York Public Library, but her teenage daughters, played by Julia Paul and Lily Lauver, aren't sure they want their grandmother's painfully private story on display for the world to see. Although Sala has done her best to forget her time in the camps, she must now reconcile her past and help decide what happens to the letters she worked so tirelessly to preserve.
Jena Oberg's direction is subtle and effective, and the cast is top-notch, in particular Paul and Lauver, who anchor the present-day narrative with their feverish concern for their Bubbie.
However, this is, above all, Sala's story, and both Grant and Franks capture a whirlwind of emotion without ever turning toward the maudlin or melodramatic. While Letters to Sala is a complex play brimming with tragedy and loss, this tale is ultimately one of hope and fortitude, and Little Lake's production captures that spirit with grace.