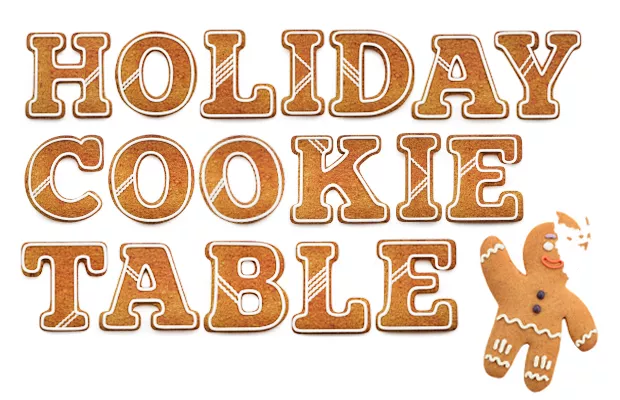 It wouldn't be a Pittsburgh wedding without a cookie table. But why keep the tradition exclusive to happy couples? In the spirit of the season,
Pittsburgh City Paper
is celebrating the holiday cookie table. We're reviewing bakery favorites, family recipes, and grocery store staples until the table is full.
---
Remember that time Starbucks slaughtered a polar bear?
Surely you've seen online trolls take to social media around this time every year to blast the coffee company for its supposed "War on Christmas" for its non-denominational holiday cup designs. (I mean, we all know you can't praise Jesus unless you drink a latte with skim milk and two pumps of hazelnut syrup out of a to-go cup plastered with the son of God's face, right?)
But the festive (but not too festive) holiday cups haven't been the only controversial item at your favorite American coffee company chain. Back in 2010, Starbucks customers cried foul when polar bear cookies with a scarf made out of red icing ended up looking like the animal had just gotten its neck slit. (Having the polar bear's head raised high, with the scarf's red icing, extra thick, dripping down in two nondescript lines didn't help.)
These Starbucks polar bear cookies looking like their throats are slit makes me glad to be alive. pic.twitter.com/fmCMAXOCQz

— Andrew Dyce (@andrewbdyce) December 10, 2015
Despite the cookie remerging online from time to time over the years, though, the infamous polar bears were actually discontinued after that first year, nearly ten years ago, which makes me really sad because there's nothing I would have liked more than licking a sugar polar bear's bloody neck for a holiday pick-me-up.
If you've also got a sense of humor about these kinds of things — or, if maybe you're equally as deranged? — you'll be happy to hear that this year's snowman-shaped shortbread cookies still have a little bit of that bloody homage to their polar bear cousins.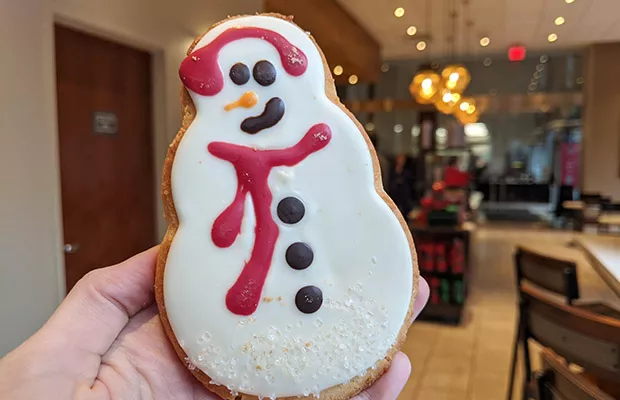 Two equally thick red lines of icing still drip from the throats of this year's cookies, but since snowmen are made of snow and a snowman homicide would be more likely to include a puddle of water than a puddle of blood, chances are low you'll hear that Starbucks has slaughtered Frosty. A matching thick red pair of earmuffs on top of the snowman's head also helps, unless you want to believe that the attacker stabbed the poor guy in both the throat
and
its head.
Black buttons, black eyes, and a black smile, paired with a tiny flash of a bright orange nose complete the character's design, with a delightful sprinkle of snow-like flakes of sugar along the bottom of the cookie as a final touch.
Paired with a latte (in a "Merry Coffee" cup, of course), this year's cookie was a tasty treat — with a soft texture, strong buttery flavor, and worth every one of the 390 calories it contains.