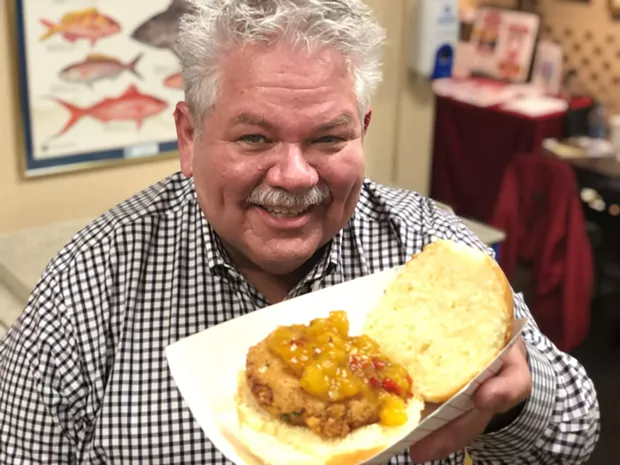 Sea-Back Shrimp Burger
No one does fish fry season quite like Pittsburgh. This year, it's kicking off with style. Wholey's Market is pairing up with Rick Sebak for a burger promising to blow traditional fish frys out of the water. Sebak and Wholey's are "reeling in customers" with The Sea-Bak shrimp burger. It starts with shrimp on a handmade patty, then topped with fresh veggies topped off with a sweet and spicy mango salsa. The Sea-Bak is finished between two slices of locally-made bread. For the final Sebak-approved touch, add on Wholey's homemade chips or coleslaw. The sandwich will be featured at the Wholey's counter for dine-in and take-out from March 6- April 19.
James Beard Nominations
On Wednesday, the 2019 semifinalists for the James Beard awards were announced, featuring six local chefs and establishments. Here's who got the nod:
● Outstanding Restaurateur
Richard DeShantz and Tolga Sevdik, Richard DeShantz Restaurant Group (
Poulet Bleu
, Fish Nor Fowl,
Butcher and the Rye
,
Tako
, and more)
● Outstanding Wine Program
Bar Marco
● Outstanding Wine, Spirits or Beer Producer
Meredith Meyer Grelli, Wigle Whiskey
● Rising Star Chef of the Year
Becca Hegarty,
Bitter Ends Luncheonette
● Best Chef: Mid-Atlantic
Jamilka Borges, The Independent Brewing Company
Wei Zhu, Chengdu Gourmet
For a full list of nominations, visit
jamesbeard.org
. Finalists will be announced on Wed., March 27, so make sure to stop by and wish the nominees good luck.
International Women's Day, The Pittsburgh Glass Center, and Maker's Mark
This International Women's Day, Maker's Mark is celebrating women in the spirits industry. The brand is honoring the craftsmanship behind its bottle, designed by co-founder Margie Samuels. Inspired from glass work by Dale Chihuly installed at the Kentucky distillery, Maker's Mark is collaborating with The Pittsburgh Glass Center for a hands-on experience.
The event extends through the glass center, celebrating women with a fully immersive experience. Attendees can create their own hand blown glass under the direction of an instructor. The center's walls project images of Samuel and other iconic women. The Hodge Gallery, featuring a local exhibition, is open for exploration. Guests are invited to commemorate women artistry with Maker's Mark in hand, courtesy of a pop-up bar in the lobby.
Join Maker's Mark and the Pittsburgh Glass Center in celebration of industry women this Sun., March 3 from 2:30-5:30 p.m. To RSVP, email
April.Ferraro@BeamSuntory.com
.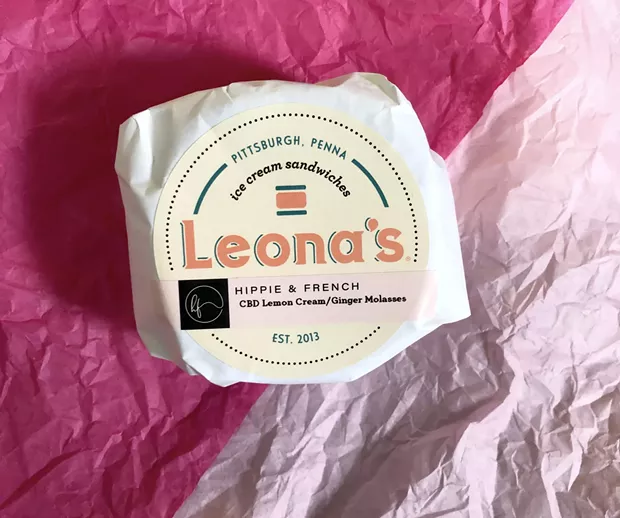 Leona's CBD Sandwiches
Dessert lovers across the city are consumed with love for Leona's small-batch, giant, two-hands-required ice cream sandwiches.
This week, in partnership with Hippie & French, Leona's gave Pittsburgh another delicious gift: CBD-infused desserts. The cool collaboration started in early January when Lindsay French approached Katie Heldstab and Christa Puskarich, co-owners of Leona's, with the idea. French, owner of Lawrenceville store Hippie & French, provided CBD resources, a "fantastic match," according to the baking team. Leona's lemon cream and ginger molasses sandwich with 20mg of CBD oil, hit stores on Wednesday. CBD was a smooth addition to lemon ice cream, complementing the citrus with a green tea-like taste. The 60-count limited run sold out in two hours.
The Leona's team plans to continue its partnership with Hippie & French because, "not only is the CBD ice cream sandwich awesome, we value working with other women-owned businesses." Don't fret if you missed the first release. There's another batch — chocolate and peanut butter— coming to Hippie & French Fri., March 1 (all sandwiches are sold exclusively from the Butler St. store). Keep a close eye on both shop's social media pages to get one before they're gone!
Fat Tuesday & Mardi Gras
Whether you observe Lent or not, Fat Tuesday is a holiday for everyone. It's the best time to indulge without guilt (it's called FAT Tuesday for a reason). If you're looking for a place to stuff yourself silly, check out one of these Mardi Gras menus:
● Northside Mardi Gras
Mardi Gras on the Northside is a 13-day extravaganza, ending with an official celebration at the Allegheny Elks Lodge #339. Stop by the lodge for classic dishes — jambalaya, po'boys, and beignets — tarot card readings, king cake, and a party that never stops.
● Mardi Gras at Hofbrauhaus
Boilermaker Jazz Band takes the stage for Hofbrauhaus's Mardi Gras. Enjoy the authentic Louisiana music while indulging on a Fat Tuesday-inspired menu.
● Musa Caribbean/Cajun Fare
Beechview might be a little out of the city, but Musa makes the trip worth it with holiday specials all night. Starting at 2 p.m., the restaurant is showcasing a Cajun and Creole menu, finishing off with Bourbon Street ice cream.
● Penn Brewery
Head over to Penn Brewery for live music and a taste of the Big Easy. Don't miss their take on fried green tomatoes and okra or the five-hour smoked brisket po'boy.