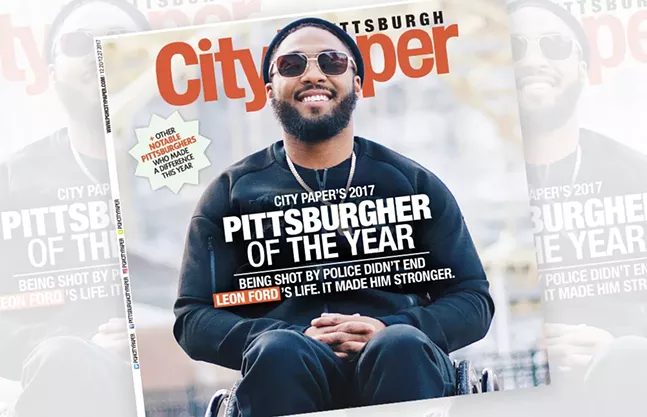 A year after being named
Pittsburgh City Paper'
s
Pittsburgher of the Year in 2017
, Leon Ford's advocacy for his hometown hasn't slowed. This year, however, his career arc took an unexpected turn: political candidate.
Ford, who was
shot by Pittsburgh Police when he was 19
after a routine traffic stop, settled a lawsuit with the city this year for $5 million. He lost the use of his legs and has since been confined to a wheelchair.
"I am grateful to close that long chapter with fighting the city," says Ford. "I had to get used to my new life. I thought my healing process was ending, but I didn't realize that it was just beginning."
Part of that new life is traveling back and forth to Silicon Valley to meet with venture capitalists about start-up companies. Ford, 25, has also been invited to give speeches at universities. He says he also met with several police departments across the country and is working to build relationships with them.
But in June, teenager
Antwon Rose Jr. was shot and killed
by East Pittsburgh police. Ford says this moment shifted his focus. During a
rally for Rose
, Ford spoke to the crowd about the need to get involved politically in order to change policies that can help protect Black lives from police brutality.
At that moment, Ford says he didn't know what his own political future meant. But he met with community leaders and they convinced him to run for Pittsburgh City Council. Ford
announced his run
for District 9, which includes East Liberty, Homewood, and Larimer on Oct. 25.
"I am ready," says Ford. "I have been tested these last few years. Ain't nothing worse than getting shot. I can deal with any challenges. I had to adapt to life in a wheelchair. I can adapt to the life as a councilor. I am up for the challenge."
Ford is currently building out his platform, but he says he wants to focus on increasing participation and transparency in city government. He thinks he can use his high profile to bring young voters into District 9 issues.
"There are forums for community happenings, but we have to find ways to reach other people," says Ford. "We need to engage the community in the political process. It creates a sense of community."
Ford believes igniting a youth coalition and creating good relationships between the older and younger constituents can bring new energy to the district. He thinks young people should take the lead in the district to help bring in a new era of positivity. District 9 includes several neighborhoods that have suffered from decades of blight and neglect.
"I have a strong desire to break generational curses in the district," says Ford. "For a long time, we looked up to the elders in the community. Those individuals are great people, but they are coming from a place of brokenness, and want to heal the brokenness and the community."
District 9 is currently held by Pittsburgh City Councilor Ricky Burgess (D-North Point Breeze). According to
The Incline
, Burgess has not indicated whether he will seek re-election.