When guitarist Sheena Ozzella and drummer Alex Kerns started Buffalo-based indie-rock band Lemuria in 2004, one of their goals was to tour Europe. In the decade since, the band has played over 900 shows on four continents, all while playing bigger and bigger stages — but working to stay true to their nature.
"We started the band as a way to go travel and hang out with friends and stuff like that," says Kerns. "You know, for most of the [band's] life we were playing a lot of house shows. Staying on people's floors — and we still do.
"The band today, even though we've been a band for 10 years, is still kind of run the same way it was run 10 years ago where it was based on a community of friends. People helping each other out."
It doesn't necessarily feel like a decade to them. For the first five or six years, the band was just "getting their feet wet," learning their instruments and figuring out how everything works, Kerns says: learning along the way.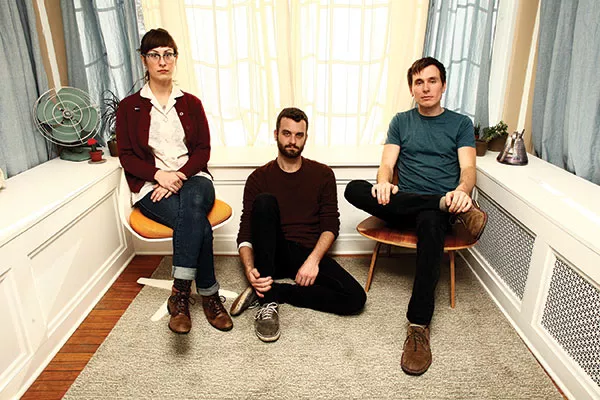 "We would drive 20 hours through the night and risk our lives to play a show that didn't even happen because someone offered us a show and we get there and they're like, 'Oh, I forgot,'" Kerns says. "When you're a band for a long time, you build your friends and eventually find all the people in different cities that you trust and want to work with."
Almost a thousand shows later, Lemuria band has played Australia, Indonesia, Russia and elsewhere, exceeding the expectations of a band that just wanted to try new cuisine and coffee.
Lemuria played this year's Riot Fest in Chicago, and has made an appearance at the punk family reunion known as The Fest, in Florida, every year since 2006. The band supported Against Me! on its 2011 summer tour and has played with the likes of The Both, Best Coast, Titus Andronicus, and Laura Stevenson and the Cans. The band even opened for indie kings Superchunk and punk supergroup Off! at a free show in Brooklyn.
Lemuria is the middle point between "generations" of emo, if those exist. The band's sound is the median between '90s-era (The Promise Ring, Mineral) and post-2000s (Tigers Jaw and Joyce Manor). Ozzella takes the mic more often, offering poppy vocals with range, with Kerns providing back-up, giving a lower voice to complement. In 2010, the band signed with prominent hardcore label Bridge 9, whose clientele has included Defeater, the U.K.'s Gallows, and straight-edge legends Have Heart. Although it's a big indie label, Kerns says Bridge 9 isn't exactly a faceless entity.
"It's a big label but they're kind of just ... hardcore kids that have been doing it forever," Kerns says. "They're still excited about new ideas."
Now, the band is at a strange place in the industry, keeping things DIY while on a bigger label. Kerns has an a email list he utilizes to contact fans on the day of show, instead of relying solely on social media. They respond to their own emails, wanting to give fans a "prompt and accurate response to something that is true to the band."
"We get people sometimes asking for tabs on guitar and stuff like that. They'll ask what the meaning of some line of a song is. That's one of the most fun parts of being in a band," Kerns says. "Not only to share songs at face value, but actually [to] be able to connect with people and elaborate. 'Oh, cool, somebody wants to know more about what we just did.' It's exciting to provide that."
Lemuria released two full-lengths, Pebble (2011) and The Distance is So Big (2013), along with number of singles and 7-inches with Bridge 9. In total, the band has 20 releases, with its most recent, Turnstile Comix #3, released Dec. 9.
Created by artists Mitch Clem and Nation of Amanda (Amanda Kirk), each edition of the Turnstile Comix series pairs a 7-inch record with a 40-page comic written and drawn about the band. Lemuria's installment features new tracks "Christine Perfect" and "Foggy Smoke," which create different feels for each side of the release. "Christine Perfect" is brighter sounding, with poppy bass and Ozzella showcasing the higher end of her vocal range. Conversely, the B-side is mellower, sounding more like '90s grunge. Meanwhile, the comic portion tells the "story" of the band's 2011 tour of Russia, with run-ins with violent Nazis, crooked cops and mobsters.
"I like how it brings different aspects of art together. You got your comic artists and musicians and you got your labels and everybody all working together to create something," Kerns says. "It was more involved than most things we've had to do; it took a lot more planning. It's definitely been a pretty wild experience."
Before the band disappears in the new year to write a new LP for 2015, Lemuria will finish up its current tour and play Pittsburgh for the ninth time. Having played everything from DIY shows to bigger venues, the band has been a frequent visitor to the city. Kerns' most vivid memory: The O, the hot-dog shop in Oakland.
"We would always be so excited, so excited to go there," he says with a laugh. "And then we'd get there and just remember, 'Wait, what are we doing? This ruined our night. We just ate this bag of fries, French fries bigger than our torsos.' Every time we played there, we would kill our night with that."