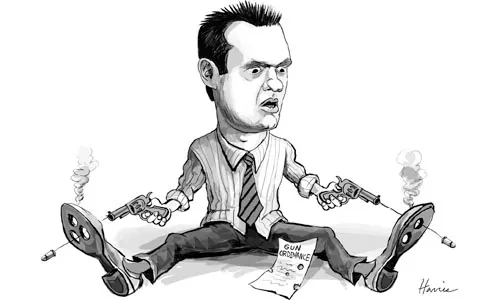 If Pittsburgh's new lost- and stolen-firearms law is challenged in court, as seems increasingly likely, the city law department could end up arguing against ... itself.
In early December, Pittsburgh City Council approved a bill requiring gun owners to report a lost or stolen firearm within 24 hours of discovering it missing. Mayor Luke Ravenstahl refused to either sign or veto the bill, allowing it to become law through his inaction.
Proponents say the bill would reduce "straw purchases," in which guns are bought by a third party on behalf of an ex-con or someone else legally prohibited from buying a gun directly. If a gun used in a crime is traced back to the straw purchaser, it's common for a buyer to claim the gun was stolen.
However, gun-rights supporters say it's unconstitutional for local officials to pass gun legislation -- and city attorneys agreed.
At a Nov. 18 hearing, assistant solicitor Michael Kennedy testified that "the ordinance would not be enforceable" because state law pre-empted local governments from passing their own gun ordinances.
Council passed the ordinance anyway. Ravenstahl returned it, unsigned, on Dec. 15. By taking no action, Ravenstahl allowed the measure to become law. But in a statement, Ravenstahl sounded more like the bill's critics.
The mayor noted that the bill had passed by a "veto-proof majority" of 6-1 (there were two abstentions). But he added, "The Solicitor's Department has advised me of two primary statutes that would preclude enforcement of this Ordinance." He also noted that in 1994, a city gun-control measure "resulted in a lawsuit that led to an amicable resolution wherein the parties ... [agreed] to abide by Pennsylvania law." The new bill, he wrote, "may well violate the spirit of that Agreement."
Gun-rights advocates certainly think so. Kim Stolfer, legislative committee chairman of the Allegheny County Sportsmen's League, says his group is working with several other organizations to "combine our forces" for a legal response.
"That's not a law: That's a crime," he says. "[The city has] no authority to do this."
In fact, if Stolfer does sue, city attorneys will be defending a law whose legality they have already questioned.
"I think it's a case that cries out for a special counsel," says Duquesne law professor Joe Mistick, who served in the administration for former Mayor Sophie Masloff. "It's not an impossible position for the solicitor's office, but it's a difficult position.
"We try to train our lawyers at the law school to argue both sides of the case," he adds. "But in the real world, that's not tenable."
Kennedy referred questions from CP to the mayor's office -- which declined comment beyond Ravenstahl's statement.
But Cliff Tuttle, a local attorney who blogs at PittsburghLegalBackTalk.com, says that the solicitor's existing opinion couldn't be used as evidence in court -- it's just an opinion. Even so, he says, the opinion could have an impact.
"The judge has an official posture," he says. "But he also knows what the aroma of a case is. And that's often what tips the case."
What's more, Tuttle says, anyone arguing against the city's right to enforce this law "is going to be literally reproducing the solicitor's opinion in their brief."

Under the ordinance, anyone who failed to report a known-missing gun could be fined up to $500 for a first violation, and $1,000 (plus a possible three months in jail) for a second.
Stolfer cites provisions in state law asserting "no county, municipality or township may in any manner regulate the lawful ownership, possession, transfer or transportation of firearms." Some supporters of reporting laws argue that such language doesn't apply to the straw-purchase bill, because lost or stolen guns are no longer lawfully possessed.
Similar laws have been passed in Allentown, Pottsville and Philadelphia. In September, though, the Commonwealth Court ruled Philadelphia's law was not legal. That decision is being appealed to the state Supreme Court.
But the measure's backers aren't holding their fire. "As long as the Philadelphia appeal is active, then I think it's legal," says council President Doug Shields.
"We're trying to put the straw purchaser on the radar of the police," Shields adds. "We're talking about a criminal element that uses loopholes in the law to put guns on the street."
The bill's only no vote in council, Rev. Ricky Burgess, said in an open letter to Stolfer that the "lost-or-stolen firearms legislation passed by the City of Pittsburgh is illegal and unenforceable." But he added "our constitutional right to bear arms is not absolute."
And even though he voted against the law, Burgess seems resolved to seeing it put to use. On Dec. 16, he released an open letter to Public Safety Director Michael Huss and police Chief Nate Harper, who supported the bill, urging that "we should use every weapon at our disposal to reduce violence within our city."
Burgess did not return a call seeking further explanation about why he urged enforcement of a law he previously said was unenforceable.
There have been no arrests made under the law yet. According to police bureau spokesperson Diane Richard, police have not yet received the final ordinance. Once they do, however, the bureau "will develop and initiate policy for the rank and file regarding enforcement."
But in the end, it's "up to the mayor," Shields says. "It's like any other ordinance on the books. Pittsburgh is notorious for not enforcing its jaywalking laws."
This isn't the first time that council has been at odds with the mayor and the solicitor, who reports directly to Ravenstahl. In the spring, four council members hired a private attorney to contest a permit for a Downtown billboard. That disagreement resulted in a dispute over who should pay for the attorney councilors hired.
In October, council and the law department butted heads over a series of Ravenstahl board appointments -- which Shields said violated the Home Rule Charter.
During negotiations for the 2009 budget, council responded to these differences by taking the law into its own hands -- literally. Over a Ravenstahl veto, council allocated money to hire its own attorney in case of future disagreements.
For now, Shields says the mayor is dodging the hot-button gun debate by playing both sides.
"You can't go through life as the chief executive trying to avoid the issues," he says. "[The ordinance] is enforceable. It's up to the administration to enforce it."