It's hard to pinpoint the appeal of Used to Be a Pizza Hut, Mike Neilson's blog that boasts the world's largest collection of photos of places that used to be Pizza Huts, but it's undeniable. Easily identifiable branding — whether in packaging, uniforms or architecture — is paramount to the fast-food industry. Think Ronald McDonald, Wendy's yellow napkins, KFC's bucket. Maybe the appeal is in the mismatch between the established branding and a totally unrelated business (UTBAPHs range from strip clubs to churches and radio stations). Either way, UTBAPH has developed quite a following in its nine-year run (even being featured on The Tonight Show With Jimmy Fallon). So, when City Paper recently learned that Neilson is Pittsburgh-based, it seemed like a no-brainer to reach out to him by email to get the full story behind his site.
Did you grow up going to Pizza Hut? Was it in your family's out-to-eat rotation?

Like most kids, I did grow up going to Pizza Hut, not frequently, but generally as a special treat.
How did the blog/Twitter account start?

The blog started when I was joking with a co-worker at the time, local funnyman Tom Musial, about how Pittsburghers give directions based on things that used to be there. This was always frustrating to me, because I grew up in Harrisburg, and didn't necessarily know where the Hills used to be, for example. We stumbled on the idea of old Pizza Huts, and I realized that those are landmarks that I can always recognize, because of their distinctive shape. I thought the idea was funny, and was surprised to see that there wasn't already a blog about it. This was in about 2008, so there weren't a lot of single-focus blogs like that at the time.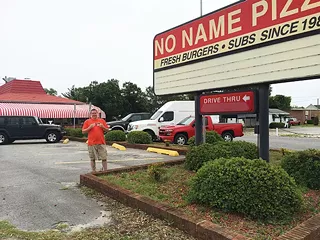 Is there a distinction between a Pizza Hut roof and just a regular slanted roof? Like is there a telltale sign that it was a Pizza Hut?

The biggest telltale sign that something used to be a Pizza Hut, even if the roof hump has been removed, is the trapezoidal windows. Often, new establishments will use shutters or other coverings to square them off a bit, and some of the newer Pizza Hut designs didn't use the trapezoids, but when you see that, you know right away it is [a] UTBAPH. There is also a pretty general shape that they all share. Typically, the windows are on the front half of the building, while the back half is bricked. While they don't all fit an exact formula, there are certain ratios and design elements that the old Pizza Huts all seemed to use.
What is your favorite submission of all time?

I get tons of great submissions, so it is hard to say which is my favorite, but the further something is from a pizza place, the better, generally. The Des Moines Police Traffic Unit was in [a] UTBAPH at one time (though it is no longer). The Psalms Funeral Home in Navasota, Texas, is a pretty good UTBAPH, as well as a few churches.
Does Pittsburgh have more converted Huts than other cities, in your experience?

Pittsburgh does not seem to have a disproportionate number of UTBAPHs, from what I can tell. At first, I got a lot of submissions from the area, just because they were mostly coming from friends who live around here, but I think we are on par with the rest of the country in that regard. We do, however, tend to use UTBAPHs to navigate far more than any other place I have been.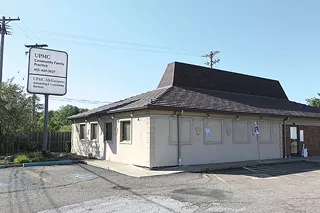 Favorite one in Pittsburgh?

My favorite local UTBAPH is Fat Pocket Pawn in North Versailles. It just has a really classic look to it, and a pawn shop is a great re-use of a Pizza Hut. It is almost like the building itself has been pawned off in hopes that it will, someday, rise again to glory. It is very poetic.
What's the farthest location you've received a submission from?

There are bunch of UTBAPHs in Australia, which surprised me at first when those submissions started rolling in. It turns out that, sometime in the '90s, all of the Pizza Huts there closed basically at once, leaving a bunch of drug stores, insurance offices and tae kwon do places to move in. Although Pizza Hut itself is worldwide, that typical building shape that most of us think of was mostly used in North America, Australia and New Zealand. There are a few exceptions to that. I have a submission from Greece, and a few in South America, but the roof hump and trapezoidal windows did not make it far outside of those key areas, for whatever reason.