Last week, Leah Lizarondo, CEO of food waste prevention nonprofit 412 Food Rescue, was honored with the Vital Voices Sustainable Development award for the organization's app, Food Rescue Hero. As part of the award, Lizarondo also attended the WE Empower UN SDG Challenge, a business competition "for social entrepreneurs who are advancing the UN Sustainable Development Goals and inspiring entire communities to act to create the world we want by 2030."
As part of the competition, Lizarondo had to opportunity to present her business to designer Diane Von Furstenberg, a Vital Voices board member. As a result of the presentation, Lizarondo was awarded a $20,000 grant for 412 Food Rescue and Food Rescue Hero.
The app, which was developed in 2016, provides a system to connect all the logistics of food donation and waste rescue, including matching donations to nonprofits and coordinating volunteers who are available to help pick up and transport food. While the app is based in Pittsburgh, it's expanded to communities in Cleveland, Philadephia, San Francisco, and Virginia.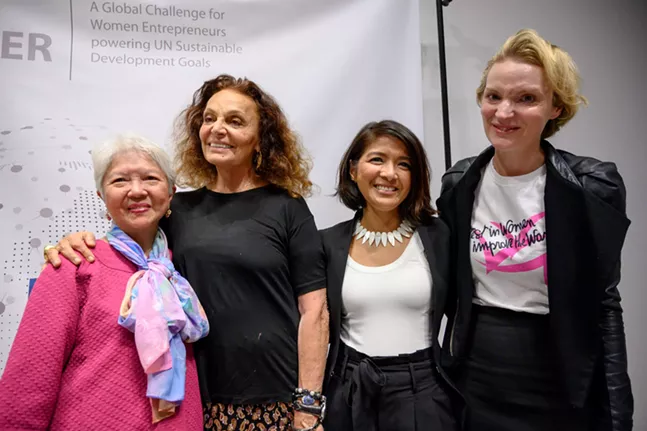 According to its 2019 impact report, 412 Food Rescue has 7,152 people in the Food Rescue Hero network, with over 5 million pounds of food rescued between 2015 and 2019. It makes a relatively small but meaningful impact on the massive problem of food waste, which accounts for 25 percent of landfill waste.
"Not only are we able to recover nutritious, perishable food, but we are also able to distribute food more widely — mitigating barriers such as lack of transit access, limited mobility, disability and inadequate time," said Lizarondo in a press release. "This is the largest volunteer transport network and the most food recovered by a grassroots network globally."
In 2018, Lizarondo
explained
to
Pittsburgh City Paper
that part of the appeal of Food Rescue Hero lies in the convenience it provides those who would otherwise miss out on volunteer opportunities because of their schedule. "[Food Rescue Hero] constantly reminds you that, 'Hey, you can do this today.' It could be 9 a.m., it could be 3 p.m., it could be the weekend — it's not like one event where if you miss it, that's pretty much it."