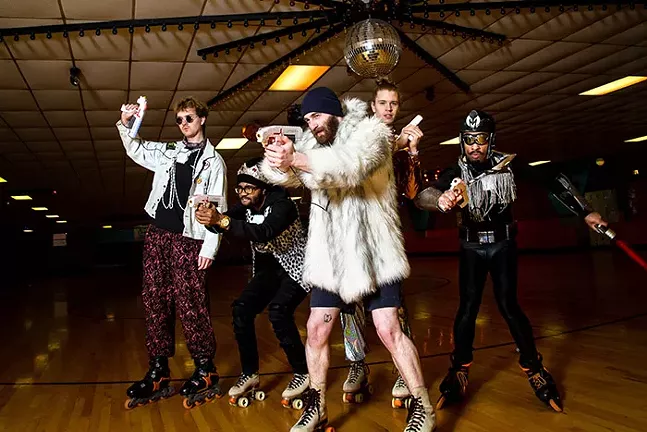 In 2017, Le Creme Music Festival debuted as a free, day-long event in Allentown. Founded by Christian Groblewski, owner of Supermonkey Recording Co., the first edition of Le Creme featured a lineup of mostly rock acts, with the iconic New York City band Living Colour headlining. But with the start of something new comes challenges and hiccups, and as the third iteration of the Le Creme rolls around, Groblewski feels that they have worked out many of the kinks that come along with running a music festival - thanks to first-hand experience and the help of Drusky Entertainment, who Supermonkey partnered for this year's event.
Ahead of the Le Creme on Sat., Sept. 7,
Pittsburgh City Paper
chatted with Groblewski about what has changed since the initial run - like the festival no longer being free - and what to expect this year.
City Paper hasn't spoken to you about Le Creme since before the first edition. How did the first and second events go?
First one was great. The show was awesome and well-received, Joe Grushecky was awesome to work with, same for Living Colour. I got to chill out and have coffee with Vernon Reid in my office for over an hour talking about shit like our kids. Can't complain about that!
Last year we had some real bad weather come through at exactly the wrong time that put a damper on things but that's the risk you take with these festivals. This year we couldn't be more excited as we decided to change a few things starting with bringing in Drusky Entertainment and their team to help run things smoother since this is something they do every day. They have been great to work with and we're excited about being the one's that got White Denim secured as our headliner. I know they are a hot ticket this summer.
What did you learn during the previous festivals that you have taken into consideration for this next one?
Oh wow, lots. Probably too much to list. My partner in this event, Jonathan Vlasic — who owns Alla Famiglia restaurant — and I actually sat down this year before we brought in Drusky Entertainment and looked at what went great and what didn't go great, and did our best to fix things to have a smoother running event. It's a learning curve for all of us.
Are there any new additions festival-goers can expect this year?
Yes, Le Creme Music Festival is a lean mean, rock 'n roll machine. Being our third year, and with Drusky's help, we've fine-tuned this event. We're FIRED UP about this year! We lowered the number of acts on the festival, tightened the set times to keep the music and changeovers flowing quickly.
We have solid Pittsburgh local acts from several genres not just rock. Mostly it's going to rock. Did I mention it's going to rock? I know I don't personally know how to do anything else but rock out so I'm stoked about playing the festival with my band SuperMonkey as well, which is another reason I wanted to bring in Drusky Entertainment tying into the above question. It's hard to run the festival when you're the guy on stage rocking out on the microphone. I'm not saying it can't be done, but I wouldn't advise it. That's actual advice Pat DiCesare gave me, and of course, just like any kid wanting to prove his parents wrong, I wanted to see if I can do it and make it work. I did. Guess what? It was exhausting mentally and physically. It's not worth the stress. I love having Adam [Valen], James [Wilson], and Brian [Drusky] helping handle some of the concert promotions so I can focus my energy on helping with sponsorship sales which are an important part of any festival and also, very time-consuming.
Overall, what can attendees expect?
FUN! FUN! FUN! Until your daddy takes the T-bird away! Which in our case would be 11 p.m. on September 7th. Seriously, it's going to rock. I love rock 'n roll so I put a team together and we built a rock 'n roll festival for Pittsburgh. Every year, we're going to try and outdo the previous year by bringing in one or two of the hottest up and coming national acts, and what we think is great Pittsburgh rock 'n roll. I'm already excited for next year and I don't know who we're going to have as a headliner. I just know it's going to be a great rock band just like White Denim is going to rock this year.
How have you seen the music scene change since the original Le Creme? How have you factored that into your planning?
I'll be totally honest, I don't have much time to check out what everyone is doing in the scene in Pittsburgh as I keep myself pretty busy every day consumed with all things SuperMonkey and Tonic Recording Studios, [at] which I'm the marketing partner. I have been quietly doing my own thing for the past 10 years and people are starting to know the name SuperMonkey, in Pittsburgh, in the music business, and around the world. I'm very thankful for that. That's what I think has changed for me personally. I've had the fortunate pleasure of being able to surround myself with the best people from my Point Park University Sports, Arts, and Entertainment interns, to having a great mentor like Pat DiCesare take my calls anytime I have a question I don't know the answer to. You're only as good as the people you surround yourself with in life.
What did your thought process look like when choosing acts for this year?
We gave Drusky Entertainment carte blanche to pick whatever acts they thought would bring the most people to the Allentown Business District right next to Mount Washington, and what bands locally they thought were great acts with a great fans. Then the three of us discussed our options. There were a lot of options and we want a great show. We want fans to walk away from Le Creme and say "Man, every band on that festival was great and White Denim was awesome." In the end, we went with [Drusky's] gut instinct that this was the best band for what we are trying to build, and they are great. I had never heard of White Denim until [Drusky] mentioned their name, and now I'm a fan. They have been killing it in the indie-rock scene and are breaking through. It's fun to watch happen and help them take a step up in Pittsburgh. I can see why they sold out most of their West Coast tour dates this past Spring and Summer. I also know the radio stations were FIRED UP about White Denim, WYEP has always been our radio partner and we were fortunate to have WXDX jump on board and partner with us as we love those guys and are glad to have them on our team.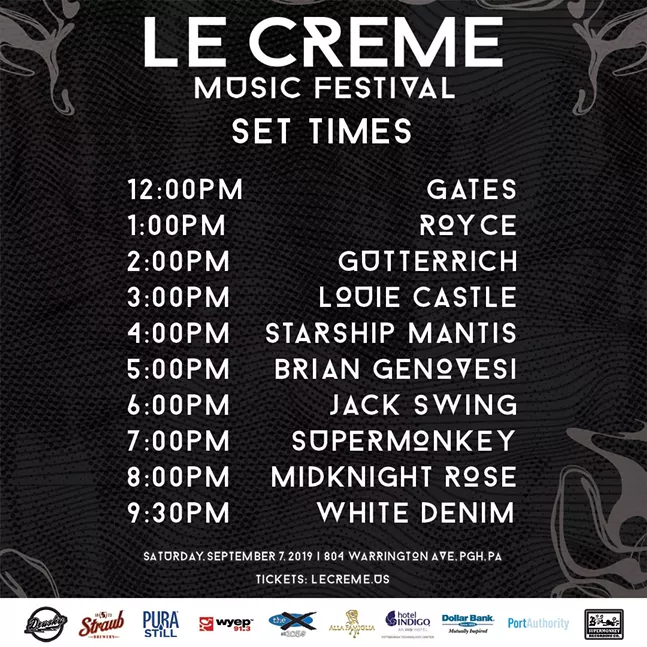 Anything else you would like people to know?
Yes, I just released a new single and it rocks! People can check out the video at
ilovesupermonkey.com
it's called "Forgive Me When I'm Gone" and it's a tribute to the late, great Chris Cornell. I wrote it on the day he died as I was pretty upset like so many people at the loss. I wrote it from the perspective "If Chris could write one more song, what would he say?" I think he would say that. I was strumming that riff in the song on my back porch that night and it just came to me in what seemed like five minutes effortlessly. I hope people enjoy it. I'm really proud of this song as I wanted to go do something different in the studio and I think it sounds like Nirvana kinda, but the lead guitars are better. I love Kurt, I'm sure he'll admit was not aspiring to be Jimmy Page! If I can die [half] the guitarist Jimmy Page is, I'll die happy. But before that happens, and hopefully it will be a long time from now, come enjoy SuperMonkey live September 7th at Le Creme Music Festival, tickets are only $13 at
lecreme.us
.