On a hot afternoon along a backed-up, rush-hour-plagued two-lane road, parents rally in the front yard of a school, holding cardboard cut-outs of children that bear written phrases like "Don't Frack My Future" and "Your Job is to Protect Me."
Some drivers honk in approval, while others yell "Frack, baby, frack." But those parents standing along Route 228 are outraged that there's unconventional natural gas drilling — or "fracking" — just about a half mile from their kids' schools.
"It should not be around schools, or residents, or farmland; I mean, it's ridiculous, it's industrial," says Laurel Colonello, of Middlesex Township, where the contentious well pad is located. The Mars Area School District school campus, where 3,200 students attend, is in Adams Township, just over the border. One elementary building — where grades five and six attend — straddles the line.
Colonello, who wore a T-shirt reading "Keep Our Children Safe," attended the rally, about 25 miles north of Pittsburgh, with her son and grandchildren, who will be the third generation of her family to go there.
Colonello made it clear: She's against "fracking." But, her sentiment about where natural-gas development does and does not belong is reverberating throughout this small Butler County community, and is the focus of a lawsuit that could set a statewide legal precedent.
Video by Ashley Murray
Hydraulic fracturing involves pumping water, sand and friction-reducing chemicals into the ground to break up rock formations and access natural gas. As the technology developed, the state government, under the Corbett administration, enacted its landmark oil and gas law commonly known as Act 13, in February 2012. The law preempted municipal zoning on these activities, among other controversial measures.
The law also set impact fees — paid by energy companies to local governments for every well drilled to offset possible costs caused by the activity. (More than 8,000 unconventional wells have been drilled, producing nearly $850 million in impact fees.)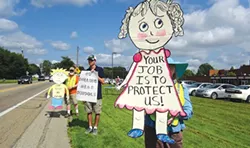 Philadelphia-based environmental advocacy organization Delaware Riverkeeper Network and several municipalities challenged those zoning restrictions. The group invoked Pennsylvania's 1970 Environmental Rights Amendment, which states that residents have a "right to clean air, pure water and to the preservation of the … natural environment." The case wound up in the state Supreme Court, where municipalities won, partially.
"Some of the old restrictions on municipalities still apply. You still may not do spot zoning, meaning you can't just pick a spot and say, 'No drilling there,'" says Bruce Ledewitz, a law professor at Duquesne University. "Not every bit of it was found unconstitutional."
Now some parents in the Mars Area School District say Middlesex Township misused its power when, in August 2014, it expanded zoning to allow oil and gas drilling and associated infrastructure — like gas compressor stations — throughout 90 percent of the township. That means drilling is now allowed on the farm adjacent to the Mars School District campus.
Again invoking the Environmental Rights Amendment, the Delaware Riverkeeper Network and another Philadelphia-based advocacy organization, the Clean Air Council, along with four residents, challenged the zoning board's decision in October 2014. The township upheld its own ordinance, and the organizations and residents appealed. This past July, a Butler County Common Pleas Court judge issued a stay on all activities on the well site until a September hearing. Drilling has already started on three of the five permitted wells on the site.
"The Mars ordinance is a municipal version of Act 13," says Delaware Riverkeeper Network's Maya van Rossum. "To allow drilling everywhere, in all variety of communities that we hold dear, it essentially backpedals on the protections that were secured in the Supreme Court victory."
The Geyer well pad is located behind the school campus on Bob and Kim Geyer's 150-acre farm, which spans both townships. Bob Geyer told City Paper that he and his wife signed the lease with Rex Energy "five or six years ago," but would not disclose for what amount. Their well permits date back to September 2014.
"It's approved by the DEP, and they're responsible for the health and welfare of residents. … There was no problem until these people decided it was too close to the school," Bob Geyer says.
Kim Geyer, a former member and president of the Mars Area School District board, at one time rejected drilling on school property.
"At that time, in 2009, oil and gas well drilling was not a regulated industry by the state. There were no rules, no state laws on the books, no state or department oversight, little data available, unanswered questions and so … we declined," Kim Geyer told CP in an email.
In March 2014, the school again rejected a deal — $1 million from Rex Energy for its mineral rights.
Shortly after Act 13's passage, Butler County hired Kim Geyer to study the law for its commissioner's office. She's now the county's Marcellus Shale liaison and is a member of XTO Energy's community-advisory panel. XTO is an ExxonMobile subsidiary with its Appalachian headquarters in Butler County.
"In the past three-and-a-half years, I have educated myself on the state regulations, the gas industry, and how responsible drilling can be achieved in a safe manner," wrote Geyer, who would not speak about her personal situation. She's currently running for commissioner.
She says the impact fees (which have more than doubled since 2012 and to date total more than $3 million), have been positive for Butler County.
According to fund-usage records (LINK: http://www.co.butler.pa.us/county-commissioners), the county has spent about $1.1 million on public safety, with smaller amounts for social services, road construction and judicial services. Only $100,000 was earmarked for land conservation. About $1.3 million has been placed in a capital-reserve fund for bridges and 911 center updates.
While legal precedents and court decisions keep society ticking one way or another, the very real prospect of machinery just a half-mile away, pounding a mile deep into the ground and releasing gas formed hundreds of millions of years ago, propelled Mars parents to organize.
"You have allowed for the citizens of Pennsylvania to become the collateral damage for development of shale gas. Gas wells continue to encroach on schools and densely populated areas," the Mars Parent Group wrote to the PA General Assembly and Department of Environmental Protection in July 2014, after the auditor general released a report criticizing DEP's oversight of the industry.
The group's website links to several studies on human health and proximity to natural-gas development; the homepage describes the group's bafflement with the DEP's issuance of the permits to Rex Energy.
"We sat across the table from Rex Energy, and we requested them to move the well pad outside of a two-mile radius, because when we've seen in the past reasons for evacuation, it's always been a mile or two miles," says Patrice Tomcik, a member of the Mars Parent Group who has two children in the district. "They said that it was not feasible because they already had too much money invested in the well pad .62 miles away."
Rex Energy did not return phone calls to confirm that statement. The publicly traded, State College-based company, which operates in Pennsylvania and Illinois, had more than 100 wells in the Butler area as of August 2014. Federal financial filings indicate the company has assets worth $1.4 billion and annual revenues of nearly $200 million.
In the case of well fires in both Greene and Mercer counties in 2014 and 2015, local news outlets reported evacuation perimeters set at a half-mile and one mile, respectively. One Chevron worker died in the Greene County blaze.
As Act 13 stands now, the buffer zone for drilling near any building — a school or not — is 500 feet from the actual wellbore, or hole, not from the perimeter of activities. The DEP would not comment on possible interpretations of building definitions because of the ongoing litigation.
According a report by the environmental-advocacy organization PennEnvironment, more than 30 schools across the Marcellus Shale region — from New York (which has banned fracking) down into Maryland — are within a half mile of wells; more than 220 schools are within one mile.
In Butler County, gas development sits anywhere from 900 feet to 2 miles from three elementary schools.
"The industry has quickly become used to demanding permit applications and getting [them] without any serious review by local government," says George Jugovic, attorney with the Harrisburg-based PennFuture, which brought cases against municipalities in Washington and Lycoming counties, where wells were proposed near residential areas and schools. The group advocates for safe gas development.
"When a person says we have a right to develop land, that right is limited when that property is subject to local zoning. You don't have the right to put in a dry-cleaning service [or] a steel mill. Those activities presumably get located in an industrial zoned district," Jugovic says. "That's the issue with shale-gas development. All indications are that it is plainly an industrial activity. How does government regulate that activity and still protect the rights of other property owners?"
The DEP is in the process of rewriting regulations for the industry, to be released in 2016, and it could apply extra scrutiny if the perimeter of a well site is planned within 200 feet of a school.
While the DEP wouldn't talk, Jeffrey Sheridan, spokesperson for Gov. Tom Wolf, says that the administration is "committed to ensuring safety."
But advocates say that doesn't go far enough.
"There's a fair amount of peer-reviewed literature of air impacts at much greater distances than what the DEP is considering," says Nadia Steinzor of Earthworks, which is advocating for stricter regulations.
"We're calling on DEP to prevent oil and gas infrastructure near schools," says Matt Walker of Clean Air Council. "DEP shouldn't let it happen within a mile."
But David Yoxtheimer, a hydrogeologist with Penn State University's Marcellus Center for Outreach and Research, says that as long as "everything is done properly and according to regulations," including air- and water-quality testing, "then yes, it can be done [that close] without having any direct health impact."
"There is another aspect here that when they are doing the drilling and fracturing, this tends to be a 24/7 operation, so you do have noise and light pollution. This is certainly where it does get tricky. You're drilling near where people live and work," he says.
And while speaking out against drilling projects is nothing new in this region, some companies and landowners who have financial interests in drilling want protesters to pipe down. In May, Dewey Homes and Investments — a land developer that leased to Rex Energy its 36 acres adjacent to the Geyers — and 12 Middlesex and Adams township residents who lease to Rex Energy, and two other natural-gas developers, filed suit against the organizations and residents who sued the township and an additional resident not on the lawsuit: Amy Nassif, organizer of the Mars Parent Group. The Geyers are not involved in the lawsuit.
According to the complaint, the plaintiffs are seeking damages for interference with their contracts. The complaint states that the nonprofits and residents acted "in concert … making false, misleading, or inflammatory public statements presenting improper and unfounded appeals and wrongful and/or unsupported affidavits before the Zoning Hearing Board."
Dewey Homes did not respond to CP's inquiry.
"When I realized that it was local residents who were demanding financial compensation for a delay in fulfilling a speculative lease agreement with Rex Energy, I was in complete shock and utterly devastated," Nassif says.
The American Civil Liberties Union of Pennsylvania calls it a SLAPP suit — or a strategic lawsuit against public participation — and has demanded that the complaint be dropped.
"What the Mars parents have done here is to protest the placement of a well that is 1,100 feet from some of their homes and .6 miles from the school," says Witold "Vic" Walczak, legal director of ACLU Pennsylvania. "They've spoken at public meetings, organized allies, and they have taken available legal action, all of which is constitutionally protected activity under the First Amendment. These suits are especially dangerous because they not only chill the people being sued, but they have a similar effect on other people who might consider getting involved and exercising their own rights."
The ACLU has filed a brief in support of the defendants.
"The only way that they could win this lawsuit is to show that the only reason our clients were doing this is to harass the plaintiffs and prevent them for getting money," Walczak says. "Our clients don't even know these people. There cannot be any doubt that our clients' intent is to block the well pad because of concern for the safety and welfare of children."