On a hot afternoon along a backed-up, rush-hour-plagued two-lane road, parents rally in the front yard of a school, holding cardboard cut-outs of children that bear written phrases like "Don't Frack My Future" and "Your Job is to Protect Me."
Some drivers honk in approval, while others yell "Frack, baby, frack." But those parents standing along Route 228 are outraged that there's unconventional natural gas drilling — or "fracking" — just about a half mile from their kids' schools.
"It should not be around schools, or residents, or farmland; I mean, it's ridiculous, it's industrial," says Laurel Colonello, of Middlesex Township, where the contentious well pad is located. The Mars Area School District school campus, where 3,200 students attend, is in Adams Township, just over the border. One elementary building — where grades five and six attend — straddles the line.
Colonello, who wore a T-shirt reading "Keep Our Children Safe," attended the rally, about 25 miles north of Pittsburgh, with her son and grandchildren, who will be the third generation of her family to go there.
Colonello made it clear: She's against "fracking." But, her sentiment about where natural-gas development does and does not belong is reverberating throughout this small Butler County community, and is the focus of a lawsuit that could set a statewide legal precedent.
Video by Ashley Murray
Hydraulic fracturing involves pumping water, sand and friction-reducing chemicals into the ground to break up rock formations and access natural gas. As the technology developed, the state government, under the Corbett administration, enacted its landmark oil and gas law commonly known as Act 13, in February 2012. The law preempted municipal zoning on these activities, among other controversial measures.
The law also set impact fees — paid by energy companies to local governments for every well drilled to offset possible costs caused by the activity. (More than 8,000 unconventional wells have been drilled, producing nearly $850 million in impact fees.)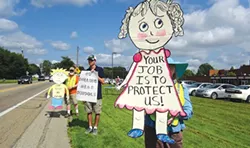 Philadelphia-based environmental advocacy organization Delaware Riverkeeper Network and several municipalities challenged those zoning restrictions. The group invoked Pennsylvania's 1970 Environmental Rights Amendment, which states that residents have a "right to clean air, pure water and to the preservation of the … natural environment." The case wound up in the state Supreme Court, where municipalities won, partially.
"Some of the old restrictions on municipalities still apply. You still may not do spot zoning, meaning you can't just pick a spot and say, 'No drilling there,'" says Bruce Ledewitz, a law professor at Duquesne University. "Not every bit of it was found unconstitutional."
Now some parents in the Mars Area School District say Middlesex Township misused its power when, in August 2014, it expanded zoning to allow oil and gas drilling and associated infrastructure — like gas compressor stations — throughout 90 percent of the township. That means drilling is now allowed on the farm adjacent to the Mars School District campus.
Again invoking the Environmental Rights Amendment, the Delaware Riverkeeper Network and another Philadelphia-based advocacy organization, the Clean Air Council, along with four residents, challenged the zoning board's decision in October 2014. The township upheld its own ordinance, and the organizations and residents appealed. This past July, a Butler County Common Pleas Court judge issued a stay on all activities on the well site until a September hearing. Drilling has already started on three of the five permitted wells on the site.
"The Mars ordinance is a municipal version of Act 13," says Delaware Riverkeeper Network's Maya van Rossum. "To allow drilling everywhere, in all variety of communities that we hold dear, it essentially backpedals on the protections that were secured in the Supreme Court victory."
The Geyer well pad is located behind the school campus on Bob and Kim Geyer's 150-acre farm, which spans both townships. Bob Geyer told City Paper that he and his wife signed the lease with Rex Energy "five or six years ago," but would not disclose for what amount. Their well permits date back to September 2014.
"It's approved by the DEP, and they're responsible for the health and welfare of residents. … There was no problem until these people decided it was too close to the school," Bob Geyer says.
Kim Geyer, a former member and president of the Mars Area School District board, at one time rejected drilling on school property.
"At that time, in 2009, oil and gas well drilling was not a regulated industry by the state. There were no rules, no state laws on the books, no state or department oversight, little data available, unanswered questions and so … we declined," Kim Geyer told CP in an email.
In March 2014, the school again rejected a deal — $1 million from Rex Energy for its mineral rights.
Shortly after Act 13's passage, Butler County hired Kim Geyer to study the law for its commissioner's office. She's now the county's Marcellus Shale liaison and is a member of XTO Energy's community-advisory panel. XTO is an ExxonMobile subsidiary with its Appalachian headquarters in Butler County.
"In the past three-and-a-half years, I have educated myself on the state regulations, the gas industry, and how responsible drilling can be achieved in a safe manner," wrote Geyer, who would not speak about her personal situation. She's currently running for commissioner.
She says the impact fees (which have more than doubled since 2012 and to date total more than $3 million), have been positive for Butler County.
According to fund-usage records (LINK: http://www.co.butler.pa.us/county-commissioners), the county has spent about $1.1 million on public safety, with smaller amounts for social services, road construction and judicial services. Only $100,000 was earmarked for land conservation. About $1.3 million has been placed in a capital-reserve fund for bridges and 911 center updates.