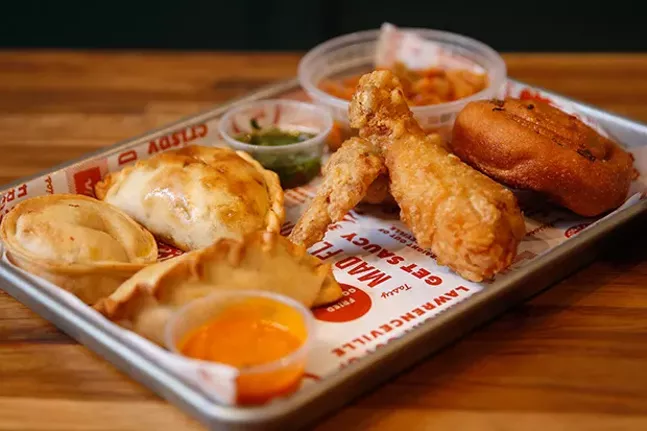 I've said aloud more than once there isn't enough good fried chicken in this town. Enter Ki Pollo, a Lawrenceville fast-casual fried chicken and empanada restaurant that opened late last year. It's from the same folks who own neighboring noodle shop Ki Ramen.
The menu is divided into two sections: chicken and the empanadas. You can choose size and sauce (served on the side). There are also sides and desserts. It is a simple and easy ordering process, which is nice if you're someone who is made anxious by innovative and confusing ordering.
I ordered the two-piece chicken (a drumstick and a chicken breast) and the sambal sauce. Each order is also served with a bao bun and pickles. The chicken comes out piping hot, but the skin is thin and crispy and the meat tender and moist, especially on the drumstick. The breast is also a big and awkward shape (am I right, ladies?!), and trickier to eat. The sambal sauce is sweet and spicy, with some coconut and fruity flavors. While good with the sauce, the chicken is also perfectly delicious on its own.
The bao bun is a fried dough spiral with flecks of scallion, like a savory donut. While tasty, it is not what I thought a bao bun would be, based on the time I recently cried watching the Disney animated short Bao. And it does feel heavy to have fried dough with fried chicken.
I also tried the mushroom empanada, which is filled with cremini and shiitake 'shrooms. The pastry was on the pale side, but still flakey, and the filling was rich and creamy. Each empanada comes with a side of chimichurri, a parsley sauce I would happily eat with a fork and pretend it is salad.
From the sides menu, I picked kimchi. The fermented vegetables are sharp and acidic, a little spicy and almost citrusy. It's a better contrast to the fat of fried chicken than the pickles, which are just okay.
The food is reasonably priced per portion size, though most orders come with a lot of chicken and would be best shared.
The restaurant's decor is clean and open, with a large bird mural on the wall. The lighting, though, is dim because Ki Pollo uses those trendy light bulbs that look like the first lightbulb ever invented.
Single-occupancy bathrooms are not labeled as gender-neutral (although the only markings are paintings of male and female birds). This is a common flaw of many restaurants, since all single-occupancy bathrooms could be gender neutral if they were simply labeled as such.
All in all, it was a tasty meal, which I will eat again in five minutes because I brought my leftovers to work.
KI POLLO
4407 Butler Street, Lawrenceville.
kipollopgh.com