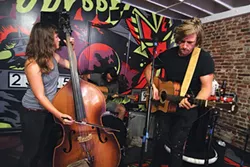 There was a time when Lawrenceville was an underdog. When the Round Corner Cantina's back patio was Sufak's clay horseshoe pit, and when Arsenal Bowling Lanes was, for a New York Times travel piece, the height of neighborhood nightclub culture. A time when Lawrenceville was known as "Lawless-ville."
This was also the time when Michael Devine, better known as DJ Zombo, moved to Pittsburgh and set up shop in a small, now-shuttered art gallery across the street from Stinky's Bar & Grill. Pittsburgh, with its '80s DIY ethic still going strong, seemed like a city where anything was possible.
Zombo quickly established himself as a go-to promoter for his adopted city. And over the past decade, he has been responsible for such self-proclaimed "oddball" events as Surfin' Burgh, Rock and Roll Drive-In and the Steel City Pizza Fest.
"I'm kind of like the Nikola Tesla of events," says Zombo. "I always like to do something different."
This makes RANT — short for "Rock All Night Tour" — his most "normal" event. Which is really saying something. The fourth annual Lawrenceville music festival, co-organized with Howlers and Hambone's booker Mary Jo Coll, stretches over more than 30 city blocks and features more than 150 bands. It lasts 14 hours, is volunteer-run and free to attend. It turns non-music venues (Arsenal Park, City Grows garden shop, Calligramme boutique) into concert stages, and dots Butler Street with "open busking zones." It breaks out of its "rock" origin and showcases all sorts of sounds across 25 venues — including established spots like Thunderbird Café and newcomers like Spirit. It brings upward of 7,000 attendees into a neighborhood once characterized by empty storefronts and second-, third- and fourth-generation residents, and now marked by $300,000 condos and BYOB painting classes.
"Anything worth doing is worth overdoing," says Zombo of the massive lineup. He remembers being the last one picked for the team as a kid, which inspired him to "start my own team, dammit, and let everyone in."
"That's one of the perks of growing up a nerd. You really find yourself a polar opposite of elitism," he says. "Anybody who wants to come to the table has a place at the table."
With a large turnout anticipated, parking for RANT may be problematic. Zombo recommends Uber or the Busy Beaver lot (the store has given the OK for usage after 8 p.m.). Or ride a bike, says Zombo. Lawrenceville is already home to the BikePgh headquarters and two Healthy Ride bike-share stations.
With all the neighborhood music festivals joining the scene established by RANT four years ago, what — if anything — makes RANT different from similar events in the North Side or the Strip District? Zombo believes it's the neighborhood itself.
"This festival has always been about being open to what anyone in the Lawrenceville community can bring to the table and figuring out how to use it," he says. "RANT is a big community effort. I just came up with the idea. Everyone is making it happen."