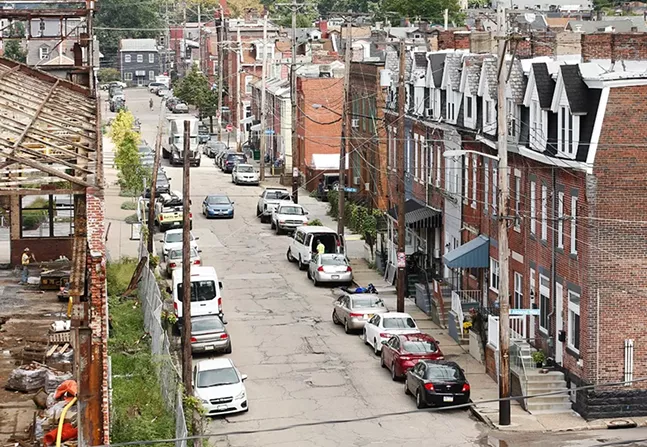 The tide has changed in Lawrenceville and there's data to prove it.
Once a pass-through neighborhood known for blight and crime in the 1990s, Lawrenceville has emerged as one of Pittsburgh's
fastest growing areas
and is attracting millennials in droves.
According to census data compiled by apartment rental site
RENTCafé
, the 15201 zip code, which encompasses Lawrenceville and Stanton Heights, saw the sharpest increase in millennial residents of any zip code in Pennsylvania. From 2011 to 2016, Lawrenceville saw a 52 percent increase in its millennial population. Almost 1,900 millennials moved to the neighborhoods over that five-year span.
In fact, the Pittsburgh neighborhood appears to be seeing some of the most millennial growth of any zip code in the entire country. RENTCafé only shows three other zip codes with faster-growing millennial populations: two in downtown Los Angeles and one in Manhattan.
Lawrenceville has seen a boom in new development over the years.
Restaurants
, bars, and apartment buildings have flooded the neighborhood. Supply seems to be following demand, as rental prices have
risen significantly
. At the same time, Lawrenceville and Stanton Heights combined
populations
have not grown much from 2011 to 2016, increasing from 12,667 to 12,805.
But its population has rapidly shifted from a mix of senior citizens and younger adults, to a neighborhood carried by millennials. In 2011, the 15201 zip code had about 28 percent of both millennials and baby boomers (50-69 years old). In 2016, baby boomers only made up 24 percent of the neighborhoods population, while millenials grew to 42 percent of the population.
One might think Oakland has the most millennials per capita, but current college students are actually part of the generation after millennials, sometimes called Digital Natives or Generation Z. RENTCafé defined
millennials
as born between 1977 and 1996, making them between 22 and 41 years old.
Other Pittsburgh neighborhoods with fast millennial growth include Manchester in the North Side (41.5 percent) and Bloomfield-Garfield (33 percent). Also both Machester (49 percent) and Bloomfield-Garfield (46 percent) currently have the higher percentage of millennials, but if trends continue Lawrenceville-Stanton Heights should overtake them within a few years.
But overall, Lawrenceville still isn't matching other prominent millennial neighborhoods nationwide in terms of percentage. The 15201 zip code has around 5,400 millennial residents, which make up about 42 percent of the neighborhood.
This doesn't come close to many top millennial areas, which are comprised of more than 60 percent millennial residents. For example, Manayunk in Philadelphia is composed of 71 percent millennials. Capitol Hill in Denver has about 13,500 millennials.