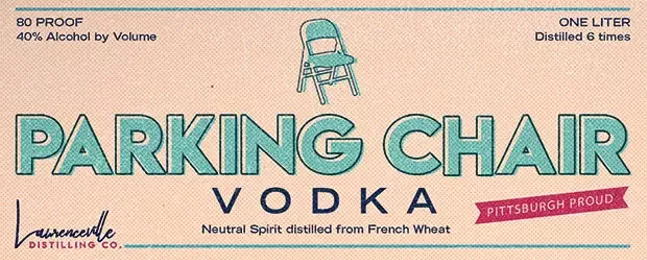 As we trudge through this cold weather, it's nice to think ahead to what new delights await later in 2018. Lawrenceville Distilling Co., set to open this fall, is one such bright light in the distance.
The future distillery is the result of a deep affection for absinthe held by co-founders Dave Harmon and Joe DeGroot (who is also the distiller). "I think I had my first bottle in 2010. Joe and I have always enjoyed hunting down new brands, and there's so much misinformation that exists around that product. The research of it and learning about it — because we both appreciate it — led us down the path of distilling and discovering our recipe," says Harmon.
Absinthe is a spirit flavored with anise, fennel, wormwood and other herbs. Because of a compound in wormwood called thujone, which is classified as a poison in high doses, absinthe has enjoyed a notorious reputation for causing hallucinations, since it became popular in the late-19th and early 20th century. However, absinthe contains very small amounts of thujone, and such hallucinations have since been attributed to alcohol poisoning from over-consumption.
Harmon and DeGroot are confident about their own recipe, and want to educate drinkers and debunk myths about absinthe by making a high quality product. "It's really good. It's classic, bright and herbaceous; all of the things green absinthe should be," says Harmon.
The pair intends to teach people the appropriate way to drink absinthe, which involves mixing it with water and sugar in a process called "louching." The oils emulsify with the water and create a cloudy texture. "Drinking it straight is like drinking lighter fluid," says Harmon, laughing.
In the former machine shop at 5410 Harrison Ave., in Upper Lawrenceville where the distillery will set up, Harmon and DeGroot have plans for a tasting room and an herb garden. "We started with the idea of beginning with absinthe," says Harmon. But after more thought, they knew they would need to start with something that would help pay for development. Thus, they chose to make a vodka they've dubbed "Parking Chair Vodka" in an homage to that Pittsburgh tradition. Parking Chair Vodka is made from French winter wheat that Harmon and DeGroot selected because they feel it makes for vodka with the softest texture. They are also planning on releasing a gin. Ultimately though, Harmon and DeGroot want to be absinthe guys and are looking forward to serving theirs to the community.
The pair is also excited to join the ranks of other local distillers whom they admire. "There's an allure to being part of the Pittsburgh craft-distillation scene, because so much of it is amazing and award-winning," says Harmon. "Pittsburgh is generally very supportive of local product, and we felt very supported by bartenders here and the USBG [United States Bartenders Guild] community."

www.lawrencevilledistilling.com