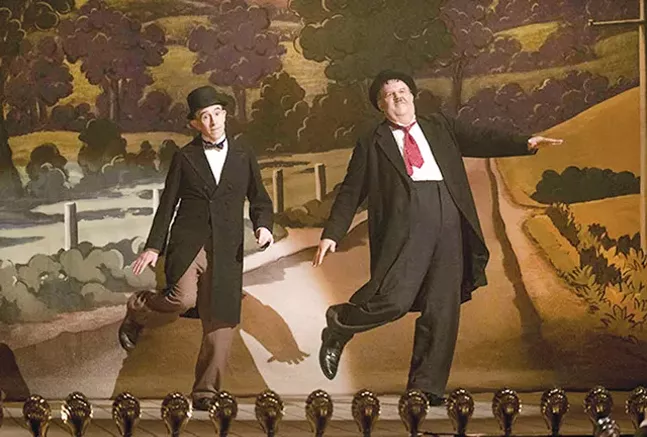 Normally when people say "times used to be so simple," they're full of crap. Life has always been complicated. Comedy, though, really used to be so simple. In the earliest era of modern theater and film, an uproarious joke consisted of a man with a big head wearing a small hat, or a guy walking through the wrong door. Comedy duo Laurel and Hardy were masters of this era of comedy, honored in Stan & Ollie, a biopic directed by Jon S. Baird.
In the mid-1930s, comedy duo Stan Laurel (Steve Coogan) and Ollie Hardy (John C. Reilly) are at the peak of their careers. But by the 1950s, there are plenty of new acts competing for audiences, and the team has to work hard to regain the public's affection and attention. The two embark on a tour across the U.K. with the hope that their performances impress a producer enough to make a film with them. The tour starts off bumpy, with Laurel and Hardy playing in small venues with small audiences, but it quickly picks up speed. By the time they get to London, the crowd is huge and enthusiastic. Despite their onstage chemistry, Laurel and Hardy struggle with old tensions that make their off-stage relationship shakier, which is only exasperated by Hardy's diminishing health.
The duo is supported by their patient wives, Ida (Nina Arianda) and Lucille (Shirley Henderson) who do their best to protect the men from themselves. Ida drinks Stan's liquor so he won't drink it himself. Lucille has to beg Ollie not to perform while he's recovering from a heart attack. It all has a tone of "wives, amirite?"
Stan & Ollie is a perfectly fine film. Coogan and Reilly fit their parts and have a comedic chemistry akin to the characters they're inhabiting. There are a couple laughs and some touching moments. But the experience of watching it is such a mild one that you wonder why it was made at all.
Moments that strive to be inspirational hardly induce any emotion and the central conflicts aren't given enough background to make the climactic fight stick. Laurel holds a grudge against Hardy for once making a movie without him, but in reality, the event seemed to barely make a dent. The movie implies that Laurel and Hardy went years without working together, but that is also inaccurate. It's unclear what source material was used, or if Baird just made the story he wanted to make. It would've been a more engrossing movie if the story was just inspired by the comedy duo and took liberties with a more exciting storyline.
Stan & Ollie is a movie made for fans of Laurel and Hardy who want nothing more than to see recreations of the duo's most famous gags, songs, and dances, which are performed in full several times. If you are not a fan of their comedy or the slapstick derived from the silent film era, then this movie would be suitable for a plane or in a waiting room.

INFOBOX: Stan & Ollie
Directed by Jon S. Baird
Opens Fri., Jan. 25 at Regent Square Theater