When the Vijay Iyer Trio performed at the Detroit Jazz Festival a few years ago, something about the music became apparent to this writer's ears. The band was floating along, playing a two-chord vamp. But it wasn't a get-the-audience-groovin' kind of vamp. Nor was the trio spinning its collective wheels while figuring out where to go next. They were toying with the groove, making it sound slightly out of sync. Bassist Stephan Crump straddled his rhythmic role with a harmonic one. On drums, Marcus Gilmore seemed to stretch time even as he held it together. Iyer didn't need to unleash a complex melody to lift the energy. The trio was already lifting it together.
Speaking to Iyer by phone a few weeks ago, that memory from 2011 begged the question of whether they did actually toy with the elasticity of the music. "We've been examining and experimenting with how to sustain a rhythmic feeling, create a certain dance impulse in the music," says Iyer. "What we tend to do rather than improvise with a lot of chord changes is we actually improvise mainly with rhythm. In a way, we try to keep the pulse grounded and still communicate. We try to keep it alive. In a way, our main focus is groove and texture."
Earlier this year, the trio released Break Stuff, an album with a title that acts as a musical description rather than a command. "On paper, a break seems like next to nothing, but in practice it can be the moment when everything comes to life," Iyer explains in the liner notes. The trio, "tend[s] to make music out of breaks: building inside them, moving through them, looping them, embellishing, flexing and warping them."
This uninhibited approach is one of the reasons that Iyer's trio is among the country's most engaging acts in modern jazz, and the recent recipient of Jazz Artist and Jazz Group of the Year in downbeat magazine's Critic's Poll. The fact that Pittsburgh is getting a visit from the trio for City of Asylum's annual Jazz Poetry Concert — a free show, no less — ranks as a major event.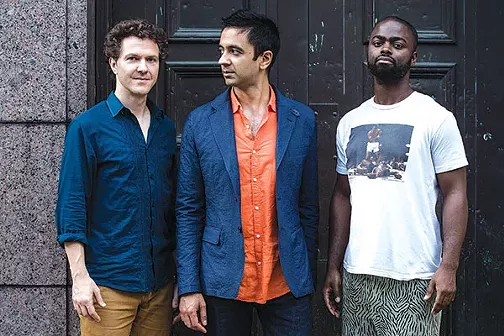 Among the dozen tracks on Break Stuff, Iyer also pays tribute to three masters: Thelonious Monk, John Coltrane and Pittsburgh native Billy Strayhorn. Whether it's the playful melody of Monk's "Work," revamping 'Trane's "Countdown" (a simple theme that birthed one of the saxophonist's most complex solos), or Strayhorn's emotional "Bloodcount," the music pays tribute while it also pays it forward.
The band's previous albums have included interpretations of everyone from '70s R&B band Heatwave and Michael Jackson to obscure pianist Herbie Nichols. Hearing them together with Iyer's originals, one gets the feeling that the music could go in any direction. To the pianist, that's a given. "That's the history of music in the first place," Iyer says. "I got this way by apprenticing with other musicians who did that, and by studying the history and studying the music. To me it's a continuum, and it's a community. Being part of this community, it actually values that sensibility, that idea of bringing something to the table that's not already there."
Iyer's skill at bringing new elements to the table has resulted in myriad projects and support for them. He holds a professorship at Harvard University, with an artist-in-residence post beginning next year at the Metropolitan Museum of Art. All this is in addition to receiving a fellowship from the MacArthur Foundation in 2013 (often called the "genius grant"), which awards a stipend of $625,000, paid out over five years.
Prior to the trio's most recent album, Iyer debuted on the long-standing jazz label ECM with Mutations, a series of original pieces where he played piano and electronics in tandem with a string quartet. While not exactly jazz, it was marked by the same exploratory nature as his work with the trio. The results sometimes sounded like contemporary new music, while at other times evoking the more ambient collaborations of David Bowie and Brian Eno.
For the Jazz Poetry Concert, the trio will perform a set, and Iyer will also collaborate with saxophonist Oliver Lake — who organized the program — together with the poets Terrance Hayes, Heather McHugh and Harris Khalique. The pairing of poets and Iyer's music has been well documented through his collaborations with wordsmith Mike Ladd. Of their politically charged works, the most intense and moving was 2013's Holding It Down: The Veterans' Dreams Project, which featured minority veterans of the Iraq and Afghanistan wars telling their stories over music.
Iyer refers to Lake, who is perhaps best known as a member of the World Saxophone Quartet, as a "longtime hero and friend of mine." The pianist collaborated with his group Trio 3 last year on Wiring, where Iyer contributed the extended "Suite for Trayvon (And Thousands More): Fallacies." His skill at controversial topics and rendering them with intensity and grace make him a natural for City of Asylum, an organization that shelters and supports exiled poets and writers.
His busy schedule has the potential to leave sleep out of the picture, but even this is something Iyer brushes aside. "The music is actually energizing. Often after playing, I'm not tired," he says. "In a way, it becomes its own way of replenishing and rejuvenating."