Allegheny Council candidate Olivia "Liv" Bennett ran her campaign on expanding affordable housing in Allegheny County, inspired by her own experience living in a low-income housing complex in Northview Heights.
"She is currently a resident of public housing in Northview Heights and can be found working with area leaders and partners to ensure local residents receive the resources that they need," reads her
campaign website
. "Last year, she was involved in the process of opening the Northview Heights Public Safety Center in her neighborhood."
But her opponents are spreading rumors that Bennett doesn't live in Northview Heights, insinuating that she lives in Baldwin Borough — outside of Allegheny County Council District 13, where she is running.
Incumbent Denise Ranalli Russell (D-Brighton Heights) is running for re-election
against Bennett
. On May 19, her husband Sean Russell posted on Facebook, "Just wondering if anyone else finds it weird that my wife's opponent has a voting address on north side and a mailing address in Baldwin twp."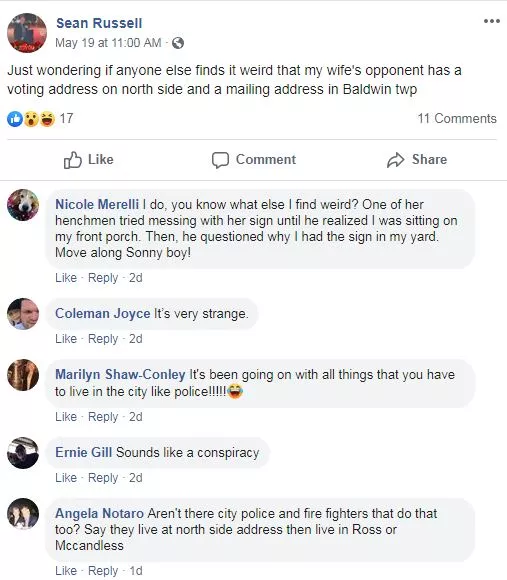 Bennett's campaign manager Arielle Teer denies any accusations that Bennett lives outside of Northview Heights. "She is known in the community, she helped open a public safety center there," says Teer.
On top of the accusation from Russell, a poll watcher in Brighton Heights said that Pittsburgh Democratic Committee Chairman
Kevin Quigley
was also spreading accusations about Bennett living outside the district.
City Paper
reported yesterday that Quigley sent a
bizarre letter
in support of Pittsburgh City Councilor Darlene Harris, who received the endorsement of the Allegheny County Democratic Committee. Ranalli Russell also received the endorsement of the Allegheny County Democratic Committee.
Danielle Graham Robinson is volunteering at the polling place at 3710 Brighton Road today. She says that Quigley approached her and SEIU 32BJ president Sam Williamson around 4:30 p.m. today and asked, "If Liv wins, would you expect her move back to Northview Heights?" She also says that Quigley kept asking her if Bennett would move from Baldwin to Northview Heights.
Graham Robinson says Quigley then walked over closer to the entrance of the polling place and talked to several voters as they entered to vote. She says she couldn't make out what Quigley was saying to the voters.
Multiple calls to Quigley's home phone went unanswered.
Even if Bennett's residency was called into question, launching accusations days before an election is typically seen as a political view to sway votes, rather than legitimately challenging a candidate's eligibility.
Last year when now state Sen. Lindsey Williams (D-West View) was running for her seat, the Pennsylvania Republican Party supported a lawsuit challenging her residency. That lawsuit, which was filed just weeks before the election, was
thrown out
because it missed the deadline to challenge a candidate's residency by months.
Teer says the accusations by Russell and Quigley are uncalled for and not in the spirit of the race.
"I think that it really unfair," says Teer. "We have tried to be optimistic and focus on police. I want to run a positive race."