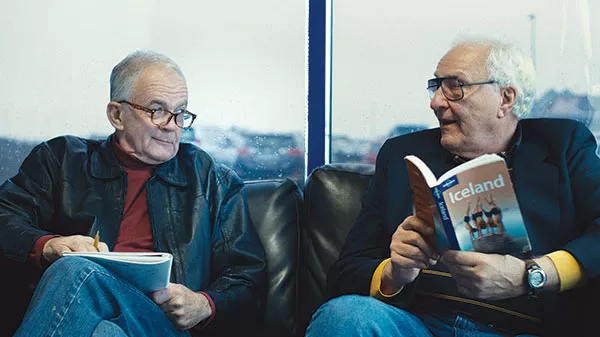 If you're going to take an aimless road trip, you might as well go somewhere exotic. In Land Ho!, a low-key indie comedy written and directed by Aaron Katz and Martha Stephens, two older men amble across the rugged, gorgeous terrain of Iceland.
Mitch (Earl Lynn Nelson) is a garrulous, up-for-a-laugh retired surgeon from Kentucky, and Colin (Paul Eenhoorn) is a quiet, slightly depressed fellow, long ago from Australia. The pair are ex-brothers-in-law, having been married to sisters, but now both are alone, and lonely. Mitch forces Colin to accept his gift of a trip to Iceland — seemingly chosen at random — and they're off!
They spend a couple days in Reykjavik — where food in fancy restaurants is served on rocks — before heading into the country in a Humvee. (Speaking of food, this film opens with a scene featuring ramps! Possibly a cinema first.) They take in the sights — the Lonely Planet guidebook is ever-present — while joking, bickering and opening up a bit to each other.
Honestly, not much happens here. It's 90 minutes of watching two mostly likable guys get their groove back, while surrounded by beautiful scenery. There are a few gentle reminders about the social hazards of growing old, to be countered with the fight to stay engaged and fun-seeking. If that's enough for you, you'll enjoy this outing.