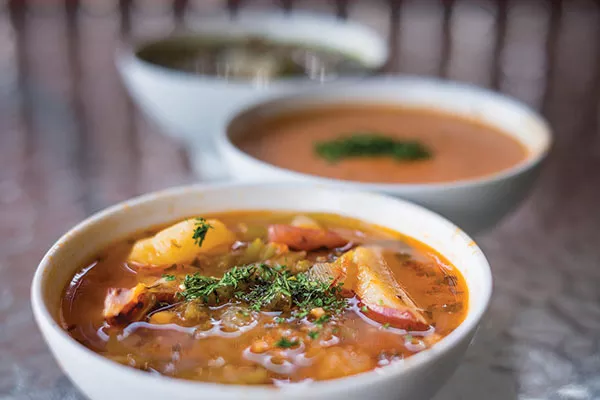 The little Allegheny River hamlet of Springdale doesn't loom large in our culinary geography, but maybe it should.
Ladles started as a soup-centric luncheonette in Arnold, but expanded to a full-service location across the river, where it serves breakfast, lunch and dinner six-and-a-half days a week. Ladles' American and Italian-American menu is well in line with local standards, but its approach sets it apart from typical small-town and suburban fare.
Dominated by the stacks of a coal-fired electric plant, Springdale's main drag is mostly parking lots, but Ladles' cottage-chic ambience is right at home in an older brick building nestled right up to the sidewalk.
There's a covered patio out back, hosting live music on a Friday night, and a tiny bar with a separate entrance off the side parking lot. The comfortable dining room is in the front, deftly decorated with just enough vintage gewgaws to feel cozy, but not so many that it feels cluttered. 
But it is the food that really sets Ladles apart.
Co-owner Kathy Marsico-Kaminski's passion for homemade soups is on display on the chalkboard menu daily; five were on offer when were there. And a large portion of the regular menu is homemade, including gnocchi, pierogie and ravioli.
Keeping things local, Ladles features organic breads and grass-fed beef from Friendship Farms in Ligonier. The promise seems to be Western Pennsylvania home-cooking with a foodie ethos.
A standout on the menu is the "raviogie," a mash-up of meat ravioli and potato/cheese pierogie, available with butter and onions or marinara sauce. This could have been a gimmick, but Ladles' kitchen executed it well, with thick yet tender pasta wrapping hearty meat and potatoes. Though the meat was a mite bland, with the onions, plus melted cheddar on top, the dish as a whole was satisfying. 
A special appetizer of roasted Portobello was impressive and lusciously flavorful: The mushrooms were filled with crabmeat and topped with a creamy tomato "gravy" and melted asiago, which lent a nice sharpness.
While beans and greens, that Italian classic, is often soupy, it is seldom served as a soup; Ladles made us wonder why not. Marsico-Kaminski's version was thick with firm yet creamy beans and plenty of escarole, but it was the broth that made this dish truly superlative. It was full of vegetal flavor with strong undertones of peppery spice that, again, drew a line between bland and bold.
The sandwiches on offer were a similar blend of the familiar and inventive, with a very tempting Chesapeake Bay crab melt (served open face) and sea scallop sliders, served with Asian slaw and lemon aioli. A dining companion polished off the latter before we could try it, which we took as a firm recommendation.
We had the cheddar haystack beef. Here, house-braised brisket was topped with onion "tanglers" — strips of red onion in a light, crunchy coating — and cheddar. The sandwich's flavors were good, but the brisket, despite braising, was a touch dry. The accompanying potato pancake was pale and lacking in crust, but onion and parsley pumped up its flavor.
An interesting feature of the Italian part of the menu was the variety of red sauces: a traditional marinara, which we found a touch sweet; the aforementioned tomato-cream "gravy," its richness brightened by tomatoes' native astringency; mild tomato vodka sauce; and a spicier tomato sauce that comes with the stuffed banana-pepper pasta.
We really appreciated that the kitchen recognizes that one size does not fit all, and that different pastas cry out for different sauces. Angelique tried the vodka sauce on homemade ravioli stuffed with meat and spinach. While the sauce didn't have enough sweet-tart tomato flavor for her taste, the ravioli were excellent, tender and fully plumped with savory filling.
Ladles's high-quality home-cooking highlights one of the primary pleasures of dining out: sampling the skill and invention of an enthusiastic cook.