One thing we frequently hear from people who come to Pittsburgh from the West or the Southwest is that "There's no good Mexican here!" We beg to differ.
Sure, our distance from the Mexican border affects the inventory of our local produce, and the character of our immigrant population; Western Pennsylvania is not Texas or Southern California. But why should that be a hindrance? Especially in this era of widespread food-distribution networks and multicultural culinary interest, there's nothing about Pittsburgh that makes it inherently incapable of producing a good Mexican restaurant.
In fact, we see Mexican cuisine following a trajectory similar to that of Italian cooking 30 years ago. From the four or five stereotypical, highly Americanized dishes once served in every restaurant with a sombrero on its wall, the Mexican dining scene has burgeoned to include explorations of authentic ingredients and preparations of regional as well as national specialties. This has raised levels of quality ... and expectations.
La Palapa, the latest addition to our Mexican dining scene, recently made the leap from a stall at the Pittsburgh Public Market to a sit-down restaurant on bustling East Carson Street. Its new space is small but cheerful, full of the saturated colors of the Southwest, as was the menu. The fact that the names of the dishes were printed in Spanish seemed to show how far we've come from the days when the only Mexican food to be had was from suburban chains.
While the basic offerings — tamales, nachos, tacos, enchiladas — tarried largely in the domain of the familiar, we did find some items and variations that were new. The best of these was a salad of tiny shrimp and squid — whole bodies, not rings — with fresh onion, cilantro, tomatoes, roasted peppers and boiled egg. A light, citrusy dressing united these marvelously compatible ingredients, and if the balance was a little heavy on the onions, it was easy enough to correct for that with some selective forking.
Sweet apple-cinnamon tamales were less successful, though maybe it was the context of dinner that made us think we preferred the more traditional, savory version. These might have been great for breakfast.
Charola para dos, a sampler platter, allowed us to share many of La Palapa's specialties. Chiles rellenos were mild, tender-firm and filled with chopped, wilted spinach and a little cheese, a nice variation on the usual floes of molten dairy. An empanada had a thick, hearty crust and was sized closer to a knife-and-fork dish than an on-the-go hand pie. But a flauta was less like a small deep-fried burrito and more like the diminutive taquito, or rolled, fried taco. It was well-browned and crispy, filled with moist shredded chicken and topped with pico de gallo and crumbled cheese. The pork rib was ultra-tender, juicy, and lightly spiced with salsa verde.
In fact, the cooking of meat came off as an unsung specialty at La Palapa. Mole poblano con pollo was a succulent poached chicken breast, and a barbacoa taco was overstuffed with outstandingly flavorful marinated, steam-cooked beef. Sauces, though competent, sometimes paled next to the excellence of these meats. The mole was mild, the salsa verde flat.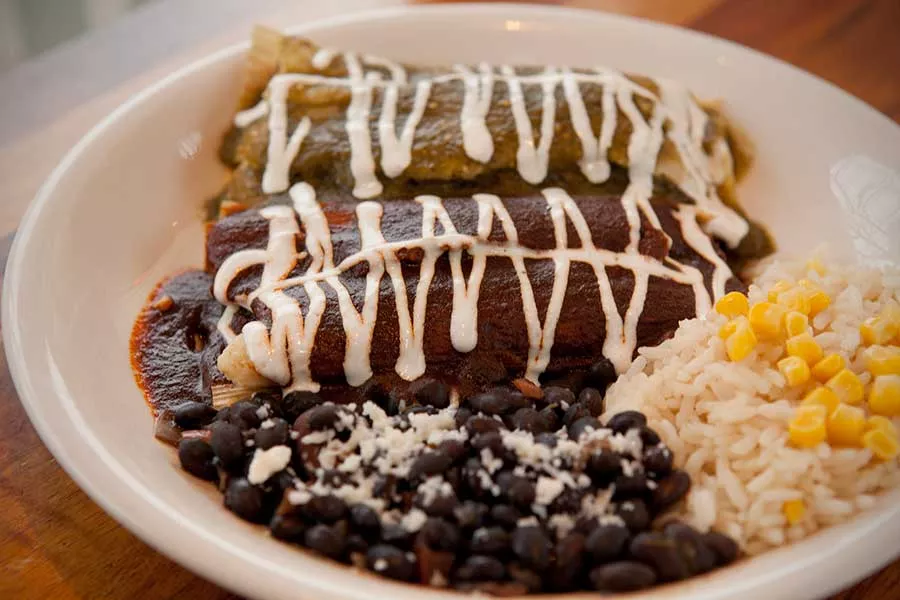 A platter of three enchiladas — we chose chicken, beef and cheese — achieved a critical balance between tender yet chewy tortillas and just enough filling. We like refried beans and rice well enough, but opted for the vegetable accompaniment here. A lightly cooked, colorful blend of baby carrots, zucchini, cauliflower florets and sugar snap peas reminded us that true Mexican cooking is often fresh and vivid, belying its heavy, greasy reputation.
Our meal began and ended with La Palapa's crispy, puffy housemade tortilla chips. When we sat down, they were delivered to us with a cup of good, rustic yet creamy guacamole. After dinner, we indulged in sopapillas, scooping up ice cream with more of those addictive chips, this time coated in sugar and cinnamon. We also enjoyed glasses of La Palapa's aquafresca of the day, a deliciously tangy, floral, ruby-red hibiscus juice.
Most Mexican popular dishes were canonized in the menus of national chains that drew inspiration from small, local Hispanic restaurants previously established in other parts of the country. Those chains may have been where many Pittsburghers got their first taste of Mexican cooking, but now, places like La Palapa exemplify the trend in reverse: Local restaurants will free us from the tiresome claim that there is no good Mexican food in Pittsburgh.