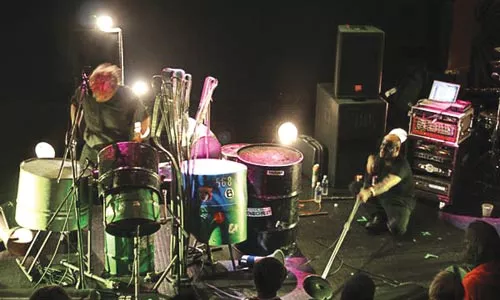 In the early halcyon days of the industrial scene, bands often deployed gritty post-industrial detritus, mirroring Luigi Russolo's Futurist Manifesto, written 70 years earlier. Einstürzende Neubauten and Test Department turned over shopping carts, pounded on sheet metal and auto parts, and extracted whatever clangor they could from coiled springs and PVC piping.
During the mid-'80s, the second generation, inspired by Brits Throbbing Gristle and Aussies SPK, began to proliferate across the American landscape, including California. In San Francisco, the movement began with Rhythm & Noise, Factrix and Z'ev, while in SoCal it seemed more allied with the punk scene.
Los Angeles industrial-rock duo Babyland (not to be confused with the Penn Avenue store!) took its first toddling steps in 1989 with Flipside, a label allied with the long-running punk zine, on releases You Suck Crap and A Total Let-Down. Priding themselves on "an honest celebration of extreme energy, harsh sonic and visual elements, and experimental destruction," Babyland's Dan Gatto (electronics and vocals) and Michael Smith (percussion and noise) were more likely to play famed Berkeley punk mecca Gilman Street than any Batcave night.
In the years that followed, new dark Pharaohs arose that did not know Genesis P-Orridge, morphing industrial music into repetitive, bland, club-based fare, while relegating the energetic live aspect of bands like Babyland to the trash heap of the old-school.
Luckily, Babyland's contribution has lately been recognized by German label Dependent (a greatest-tracks collection, Decade One) and American electro-industrial juggernaut Metropolis (the band's latest album, Cavecraft). This Wednesday at Pegasus, Babyland finally debuts in Pittsburgh, a post-industrial relic in itself, to show all these young, makeup-caked pretenders a thing or two about how real "performance-based electronic junk punk" should be done.
"Cyber Wars 8" feat. Babyland, Terror Firma Sky and Sachem Orenda. 8 p.m. Wed., July 8. Pegasus Lounge, 818 Liberty Ave., Downtown. $12 ($15 day of show). All ages. 412-726-2925