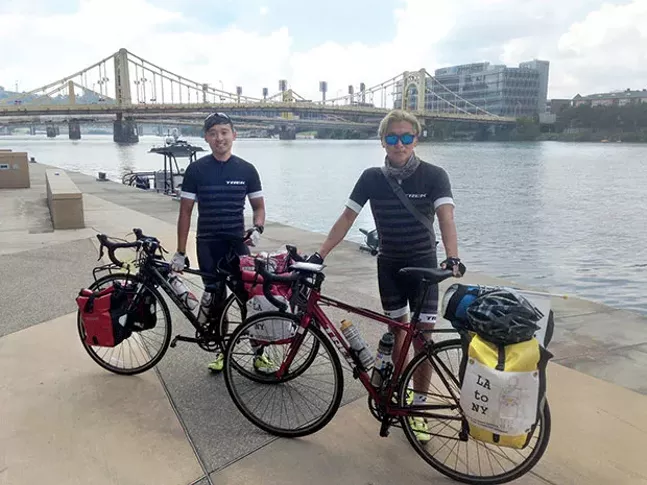 Jo Yong Jo and Ha Joo Young are students from South Korea on a mission: to bike across the U.S. and spread awareness about victims of sexual enslavement. During World War II, the Japanese army abducted women in Korea and throughout the Far East, and forced them into sex work with Japanese soldiers. In 2015, the Japanese government started a fund for the victims, referred to by their captors as "comfort women," and the Korean government agreed to stop publicly criticizing Japan for those actions.
However, many Koreans weren't satisfied with that agreement and are asking Japan to more fully acknowledge its wrongdoing. Jo and Young are working to put the pressure on the Japanese government by spreading the story of comfort women across the U.S.
The students started in Los Angeles on June 23 and biked along historic Route 66 to Chicago. From there, the friends biked to Pittsburgh; some days they traveled as many as 100 miles. They met with Pittsburgh City Paper on Aug. 15.
"We want to raise this issue in the U.S. because the U.S. is the center of the media world," said Young. "We don't want to see this tragedy in any other [country]."
Last year, Jo learned more about the details of comfort women and the campaign to get Japan to more fully acknowledge its role. "This news shocked me," Jo said. "I decided to do something before [all of the comfort women] pass away." Jo says that only 37 victims in South Korea are still alive, and most are in their 80s and 90s.
The two young Koreans only trained for two months before starting their trek. They have enjoyed the ride so far, but Young says that biking in the Mojave Desert in California was difficult and that Pennsylvania has been "hilly and hot."
On Aug. 16, a day after grabbing sandwiches at Primanti Brothers in the Strip District, the two students hopped on the Great Allegheny Passage trail toward Washington, D.C. They will end their trip at the end of August in New York City.
www.facebook.com/bikeforcomfortwomen