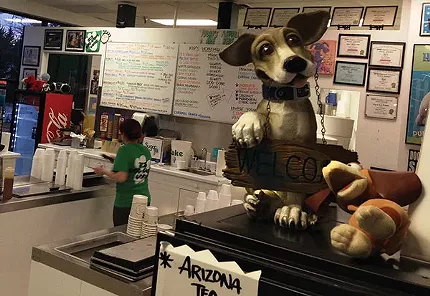 Kip's Ice Cream, in Coraopolis, has not gone to the dogs; in fact it's thriving. Sure, dog-themed memorabilia is scattered throughout the small space off Thorn Run Road, but this ice-cream parlor provides more than 30 homemade flavors for humans.
"The original owner had a dog named Kip and they started the dog theme," says current owner Teresa Ware. "It was such a neat idea, so why change it? In the summer, we will have a few dogs out on the porch at any time."
Kip's theme might be hound-inspired, but its focus is on fresh ingredients. For example, its strawberry and raspberry ice creams use a fresh-fruit purée that provides a bright non-syrupy taste. The comically named PennDOT Road (the shop's take on rocky road) is filled with moist chopped almonds and fluffy mini-marshmallows.
Ware says what makes the difference is that Kip's makes fresh batches, from original recipes, three to four times a week; the high butter-fat content of the dairy doesn't hurt either.
The names of some flavors echo the playful canine theme: Try the German Shepherd Chocolate Cake or the Better Pecanese. And bring your Pekingese, too — Kip's makes a special low-fat ice cream that is safer for pooches, complete with a dog bone to cleanse their puppy palates.
Many suburban ice-cream spots are outdoor venues and close for the winter. But Kip's is open year-round and offers a buy-one-get-one-half-off special on pints through March.
1136 Thorn Run Road, Coraopolis. 412-269-7475. Cash only.