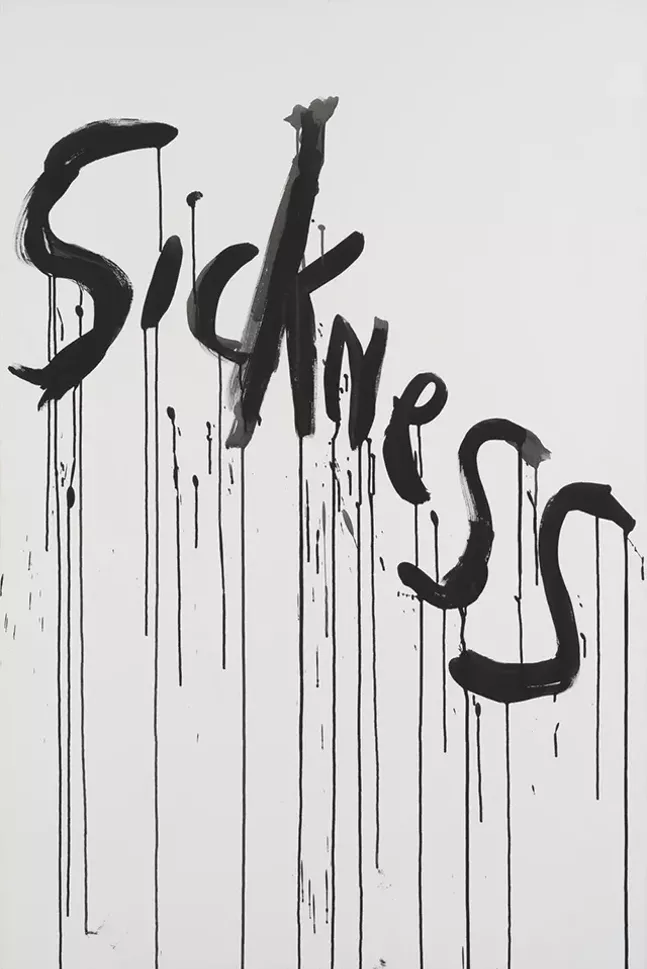 Before her legendary tenure on bass and vocals for Sonic Youth, or later with bands like Free Kitten and Body/Head, Kim Gordon was primarily a visual artist.
This week, her creative disciplines come together at The Andy Warhol Museum with her first solo museum outing, Lo-Fi Glamour. The exhibit will unite drawings and sculpture, along with a score for one of Warhol's short films, the commissioned work that set this in motion.
"It's been about a two-year process," says Ben Harrison, the Warhol's curator of performing arts, who teamed up with Jessica Beck, Milton Fine curator of art, to take the exhibition from inception to realization.
Harrison initially contacted Gordon with the idea to compose a score for Kiss, a 50-minute experimental silent film that features various couples joining at the mouth in segments of three-and-a-half minutes. At the time, Harrison was well acquainted with Gordon's music, but says when he started learning about her work with visual art, it piqued the museum's interest.
"It went from a Sound Series to an exhibition," says Beck. "How do we make this an exhibition of Kim's painting and drawing and sculpture work and not just have her do this commissioned soundtrack?"
Gordon first emerged as an artist while attending Otis College of Art and Design where she earned a Bachelor of Fine Arts degree. Beck says Gordon cites Warhol as an influence, saying getting a copy of Warhol's 1980 memoir Popism was "like getting the keys to the city."
Throughout her career outside of visual art, Gordon continued her practice within it. In addition to penning her own memoirs in Girl in a Band, she published Is It My Body?, a book of essays on music and art written throughout her career. She's also shown her own artwork, primarily at New York's 303 Gallery in recent years.
Gordon is as difficult to pin down visually as she is musically. Working across a range of media, she veers wildly from one series to the next. Her noise paintings blast white canvases with names of bands as chaotic as her representations of their honorifics; dripping, spindly, evocative of spray paint used to claim surface more than represent the artist who applies it. Her ceramic sculptures are delicate and contained; their subjects, women busy with self-pleasure, fit to burst. The "Ladies of the Paradise" series merges spray paint, glitter, resin, and fiberglass to crumple on canvas — drive furrowed, plowed, clutched, and released, bringing to mind sheets on beds well occupied but free of sleep.
While Gordon has been an artist for most of her life, Beck says her Warhol show will be "the first time that early work of hers will be looked at with brand new work, new drawings for the exhibition."
This new work is not limited to that created by Gordon independent of the Warhol. Guided by Beck, all have worked collaboratively to devise something that brings together all of the varied aspects of Gordon's innovation united as one collection. "The really exciting part to me is that these aren't two separate projects, they really became one," says Harrison.
The visual works, including drawings, paintings, and sculptures, reflect Gordon's perspective as a woman. "There's this look at feminine desire as power, commentary on power and agency and control that's sort of hinted at in some of her paintings but comes out really strongly in ceramic sculptures," says Beck. Six new drawings stemming from these conversations will be debuted in the exhibition.
Gordon is an obvious and natural fit at the Warhol, not least of all because of the overlap of circles traveled in the New York art world: music, film, visual, theater, and every other discipline and junction of disciplines imaginable.
Her first encounter with Warhol, however, was prior to her New York arrival. Gordon attended a book signing and opted instead to receive his signature on a pair of canvas boots. Rather than granting them the sanctity of objects sacred and revered, she wore them. They became a part of her uniform on and offstage as an artist with the world at her feet, the art world on her feet.
"She still has them," says Beck. "They're in the exhibition."