Bella Frutteto
2602 Brandt School Road, Wexford.
724-940-7777 / bellafrutteto.com
Skip the babysitter and take the family to Bella Frutteto where kids can enjoy tasty
options like the chicken parmesan topped with marinara and mozzarella cheese, or the penne pasta topped with marinara, Alfredo or butter sauce.

Burgatory
Multiple Locations.
burgatorybar.com
The "little angels and devils" kids' menu at Burgatory includes options like two mini cheese burgers, smashed ham-and-cheese sandwich and grilled all-beef organic hot dog. After dinner kids can enjoy a sweet classic shake like the cookie monster.

Double Wide Grill
Multiple Locations.
doublewidegrill.com
Double Wide Grill offers an extensive kids' menu filled with classic favorites and exciting options like the tofu skewer, ribs and a pulled-pork sandwich. Each kids' meal comes with one side and a free cookie or scoop of ice cream.
El Campesino
Multiple Locations.
elcampesinospgh.com
In the mood for Mexican? El Campesino offers something for everyone in the family. The kids' menu includes options like burritos, tacos, enchiladas and quesadillas. All kids' meals come with a fountain drink.



Franktuary
Multiple Locations.
franktuary.com
If your child loves hot dogs, then stop by Franktuary for a frankfurter or corndog, with apple slices or fries. Followed with hot dog gummi candy and an organic milk or apple juice box.
Kickback Cafe
4326 Butler St., Lawrenceville.
412-682-3200 / kickbackpgh.com
Head over to the heart of Lawrenceville where kids can feast on the grilled cheese or
turkey or ham sandwich while enjoying the arcade.
Luke Wholey's Wild Alaskan Grille
2106 Penn Ave., Strip District.
412-904-4509 / lukewholey.com
Spend the day with the family in the Strip District and stop by Luke Wholey's Wild Alaskan Grille where kids will enjoy menu items like the fried-fish sandwich,
linguini marinara or grilled chicken with mashed potatoes.
Monterey Bay Fish Grotto
1411 Grandview Ave., Mount Washington.
412-481-4414 / montereybayfishgrotto.com
Monterey Bay Fish Grotto offers an upscale dining experience that the entire family will enjoy. Younger guests will enjoy menu items like the pan-seared Faroe Island salmon, ultimate grilled cheese with a blend of American and sharp provolone on buttery brioche and a six-ounce petite filet.
North Park Lounge
Multiple Locations.
northparklounge.com
At the North Park Lounge, all kids' meals include a drink and a jumbo cookie. Each location has a different kids' menu offering options like spaghetti and meatballs, mini corn dogs, fried shrimp basket and cheese pizza.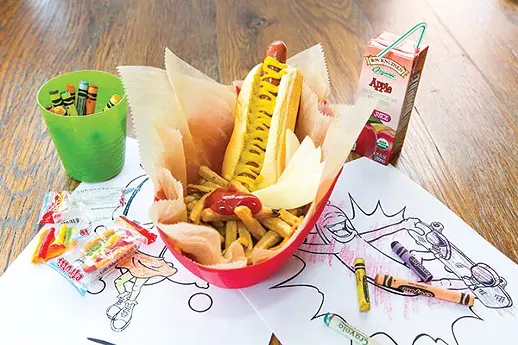 OTB Bicycle Café
Multiple Locations.
otbbicyclecafe.com
Offers multiple menu choices for little tykes. Menu items like the "tricycle," "training wheels" and "the tandem make" chicken fingers, peanut-butter-and-jelly sandwich and grilled cheese sound like fun.
The Porch at Schenley
221 Schenley Drive, Oakland.
412-687-6724 / theporchatschenley.com
If you are in Oakland stop by The Porch at Schenley where kids can enjoy a beef burger, pepperoni pizza or grilled cheese and soup.

Rivertowne
Multiple Locations.
myrivertowne.com
The minnow menu at Rivertowne Restaurants offers classic favorites and house
specialties like chicken skewers with pineapple and zucchini, wings, heart-healthy salmon and build-your-own pizza.
The Slippery Mermaid
613 Beaver St., Sewickley.
412-741-2459 / slipperymermaid.com
The Slippery Mermaid offers the "small fins" kids' menu featuring the steamed rice bowl topped with teriyaki sauce and tempura crunch. Add on chicken, steak or shrimp tempura to make this bowl complete. The California roll or peck-n-roll are other options for the young sushi lover.

Square Café
1137 South Braddock Ave., Regent Square.
412-244-8002 / square-cafe.com
Square Café offers breakfast and lunch options for kids. Try the babycakes served with butter, powdered sugar and whipped cream. For lunch, try the mac-and-cheese bites served with French fries.

Walnut Grill
Multiple Locations.
walnutgroverestaurant.com
Walnut Grill offers options that will please any child's palate. Try the buttered noodles, chicken tenders or cheese burger. All kids' meals come with a side of French fries, apple sauce, fruit cup or garden salad.